Cleansers Vs Face Wash: Difference And Use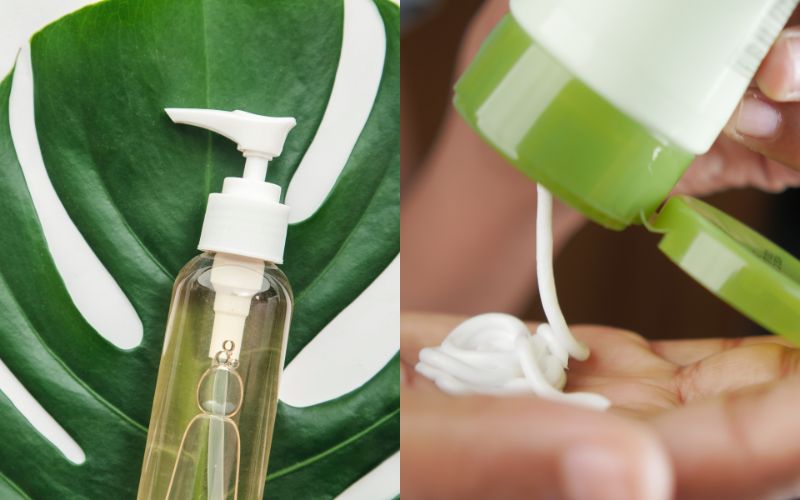 Have you ever been puzzled as to why the "cleansers vs face wash" debate seems to go on forever?
At the end of a hectic day, washing or cleansing your face can give your skin a refreshed feel. Both help eliminate the debris, dirt, and makeup residue from your face.
However, the question is, which among them is the perfect choice for you?
Your woes begin when you pitch on an incorrect face wash or cleanser unsuitable for your skin type. Therefore, understanding and analyzing their differences and benefits can make your skincare routine successful and more manageable.
We tapped board-certified dermatologists to determine the differences between face wash and cleanser and learn how to choose the best for each skin type.
Table Of Contents
The Key Difference Between Face Wash and Cleanser
The distinct difference between cleansers and face wash lies in how they work on your skin and affect your skin.
Cleansers – Gently Purify, Hydrate, And Soothe Your Skin
The primary duty of a cleanser is to cleanse your skin. It removes makeup residue, oil, dirt, and debris from your face. A facial cleanser comes in lotion, milk, or gel form with a non-foaming texture. It doesn't have to be washed off; it only needs to be wiped off.
Face Washes – Clean Your Skin Deeply
Face washes effectively remove dirt from deeper layers of your skin and clean out your skin pores. This formula most frequently comes in either gel or foamy textures. The foamy action goes into the deep layers of your skin and sweeps away all the dirt and oil.
| | | |
| --- | --- | --- |
| Properties | Cleanser | Face Wash |
| Primary Function | Gently cleans your skin without irritation. | Cleans the deep layers of your skin to efface all dirt, oil, and makeup. |
| Available In | Milky, cream, or gel texture | Gel or foamy texture |
| Suitable For | All skin types (dehydrated and sensitive) | Oily or combination |
| Moisturization | It adds some extra moisture to your skin. | You need to moisturize your skin after every face wash. |
| Rinsing | Rinsing is not required in most cases. You can wipe it off. | Rinsing is necessary. |
| Ingredients | Mild and skin-friendly ingredients | Potent ingredients to deep cleanse the skin layers. |
| pH level | Helps maintain the pH level of your skin. | Strips off the natural oil and moisture, disrupting the skin's pH level. |
Different Types Of Cleansers
It is necessary to analyze the types before picking a cleanser suitable for your skin type. It can help you avoid potential breakouts, dehydration, clogging, sensitivity, and skin conditions.
Here, we have broken down all cleanser types that help you target the best one for your skin type.
Gel Cleanser
Gel cleansers, in clear and jelly-like consistency, offer deep cleansing and supply needed hydration to your skin.
Suitable For: Normal skin, oily skin, combination skin, and acne-prone skin.
Cream Cleanser
The cream cleanser with non-foaming formula retains the natural oils in your skin. It is one of the best options to control sebum excretions.
Suitable For: Dry and sensitive skin.
Foam Cleanser
Foam cleansers with foaming formula deeply penetrate the pores and help you eliminate frequent breakouts and excess oil production.
Suitable For: Oily, acne-prone, and combination skin types.
Powder Cleanser
Powder cleansers, the concentrated version of liquid cleansers, come with cleansing and exfoliating properties. You can use it for makeup removal and deep facial cleansing.
Suitable For: Combination, oily, and sensitive skin types.
Cleansing Balms
These are similar to cleansing oils. You can use it for removing makeup, dirt, sunscreen, and all other skincare products from your skin.
Suitable For: Dry skin and normal skin.
Oil Cleanser
An oil-based cleanser is the most suitable option for dry-skin people. If you have oily or acne-prone skin, keep it at the bottom of your list.
Suitable For: Sensitive and dry skin.
Clay Cleansers
Clay cleansers with powerful absorbing properties give you a perfect cleansing experience without leaving a single trace of makeup, oil, or dead skin cells.
Suitable For: Oily, sensitive, combination, and acne-prone skin types.
Micellar Cleanser
If you love to do your makeup removal with cotton pads, micellar water can be a better option. Since it is free from soap, harsh chemicals, and alcohol, it helps you maintain the natural moisture and oil content on your face.
Suitable For: Dry, sensitive, and acne-prone skin.\
Bar Cleansers
Bar cleansers or mild facial soaps will not create any harm to your skin. These types of cleansers are designed to maintain the pH level of your skin.
Suitable For: Oily and combination skin types.
Cleansing Wipes
Cleansing wipes are easy to carry, but they cannot effectively clean the complete dirt or makeup. You can use these wipes whenever you cannot use a face wash or cleanser.
Suitable For: Oily skin, dry skin, and normal skin types.
How To Select A Face Wash/Cleanser Based On Your Skin Type?
Understanding your skin type and analyzing its concerns is the key here. Here are a few essential tips to help pick a suitable face wash/cleanser for your skin type.
Choose the formula (gel, cream, oil, lotion, etc.) based on your skin type.
Choose the ingredients that suit your skin concerns.
Avoid harsh and hypoallergenic ingredients if you have sensitive skin.
Avoid formulas that include parabens, sulfates, alcohol, and artificial fragrances.
Read the reviews from online shopping portals and research adequately on what has worked well for others with the same skin types and concerns as you have.
Test your newly-purchased cleanser for a week or two to check the reaction of your skin.
Important Tips
For Oily Skin
Look For: Products that remove oil without damaging the skin's natural barrier.
Avoid: Harsh or drying cleansers with alcohol.
For Dry Skin
Look For: Creamy formulas with humectants.
Avoid: Acids, clays, or exfoliating beads.
For Acne-Prone Skin
Look For: Formula that deeply penetrates the epidermis.
Avoid: Detergents, alcohols, and salts that dry out and irritate your skin.
For Combination Skin
Look For: Lighter options like a gel or creamy cleanser.
Avoid: Ingredients like alcohol or fragrance can irritate dry and oily skin.
For Sensitive Skin
Look For: Gentle and hydrating cleanser.
Avoid: Fragrance, chemicals, alcohol, and exfoliators such as salicylic acid or glycolic acid.
Ingredients That Work Best
Dry Skin: Hyaluronic acid, glycerin, ceramides, aloe vera, niacinamide, etc.
Oily Skin: Salicylic acid, benzoyl peroxide, glycolic acid, niacinamide, etc.
Acne-Prone Skin: Salicylic acid, benzoyl peroxide, tea tree oil, glycolic acid, retinol, sulfur.
Combination Skin: Retinol, activated charcoal, vitamin C, salicylic acid, hyaluronic acid, ceramides, etc.
Sensitive Skin: Cucumber water, rose hydrosol, coconut water, glycerin, etc.
How To Use A Cleanser And A Face Wash
Understanding every step involved in cleansing or using a face wash is imperative for better results. Here are some general tips that explain how to use your face wash or cleanser.
First, tie your hair back to keep strands out of your face.
Wash your hands and make sure that they are clean.
Splash some lukewarm water on your face to help your cleansing formula to go smoothly on the skin and spread evenly.
Apply the cleanser or face wash gently and evenly on your face using your fingers or cotton pads.
Cover the jawline and neck. Be careful in areas in and around the eyes and mouth.
Gently massage your skin in circular motions.
Finally, depending on the type you use, rinse it off with lukewarm water or wipe it off using cotton pads.
Gently pat your face with a soft towel.
Follow up with serum or moisturizer to avoid skin dryness and itchiness.
Benefits Of Using A Face Wash And Cleanser
Now, let's jump into the benefits of using a face wash or a cleanser.
They remove oil, dirt, and makeup, making your face look fresh, clean, and supple.
They remove the accumulated dead skin cells.
They help your skin absorb more moisture and nutrients from skincare products.
A gentle massage boosts the blood flow to your face, giving an instant glow to your skin.
Regular dead skin cell removal through cleansing or face washing can help you delay the age marks.
The Secret To Soft And Clear Skin
The difference between cleanser and face wash is incredibly subtle. Many use these two names and products interchangeably with confusion. It may negatively impact their skin too. If you have picky skin, understanding the difference between these two can help you make your skincare routine more beneficial and effective.
References