Skin Care For Dry Skin: Choose the Right Face Cleanser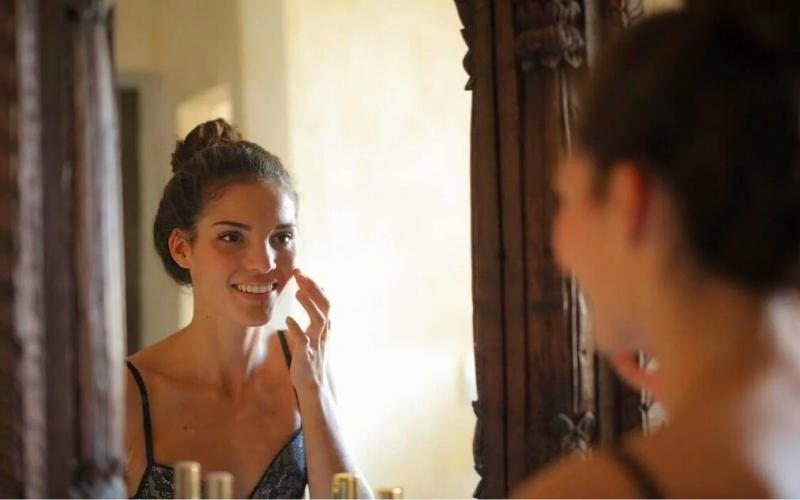 Your skin becomes prone to various ailments due to the accumulation of dust, sweat, grease, old makeup, filth, and bacteria; for this reason, it needs a thorough cleansing program.
However, if you are worried about drying out your skin, you can choose skin-friendly DIY cleansers or look for the active ingredients and the cleanser type mentioned below to help with dry skin health and hydration.
DIY Cleansers For Dry Skin
If you are worried about the unpleasant side effects of using over-the-counter products, making your skincare products at home is the greatest method to relieve yourself of this misery. A proper blend of active ingredients may enhance the general health of your skin and hydration.
Here are a few easy-to-make DIY facial cleansers for dry skin:
Vitamin A and Vitamin E: Mix one teaspoon of honey and half the quantity of egg yolk. Now, add a paste of 5 to 7 almonds into it. Apply this mixture over your forehead, face, and neck. Allow it dry, and then wash with lukewarm water.
Honey, Egg Yolk, and Almond: Combine one teaspoon of honey, beaten egg yolk, and a paste of 5 to 7 almonds. Blend it well and apply the mix to your face and neck. Leave it to dry for some time, and then wash with lukewarm water.
Yogurt and Honey: Take one tablespoon of yogurt and mix one teaspoon of honey. Apply this yogurt-honey mix to your face, wait for two minutes, and then wash with cold water. Tone and moisturize as usual.
Cleansing Grains: You can make this by mixing herbs, oats, nuts, or rice in a powdered form. It should be finely ground to avoid irritation and wounds on your skin. Use shell-less nuts to prevent any microtears since coarse pieces of shells might cause skin injuries.
Pineapple: Combine two teaspoons of pineapple juice, lemon juice, and one teaspoon baking soda to make a thick paste. Apply this paste and massage it all over your face gently. Rinse after five minutes with cool water.
Tomato: Tomatoes include several skin-beneficial vitamins and nutrients that can give you glowing skin. Slice a cold tomato and gently massage it all over your face. Let it rest for 5-10 minutes. Wash off to get smooth, soft, and matte-looking skin.
Not all DIYs might fit your needs. Try as many ingredients as possible to find the right ingredient to keep your skin healthy and glowing.
Super Effective Over-The-Counter Cleansers For Dry Skin
Regular cleansers mainly focus on removing dirt and grime. Removing excess oil from the skin will force the skin to produce more oil. Hence, it is important to consider the right ingredients or formula while choosing products over the counter.
We've gathered some of the most well-regarded active ingredients in cleansers that are fantastic for dry skin.
Glycerin: Glycerin is an excellent moisturizer for dry skin that helps you keep the skin hydrated and fresh. It will bid farewell to your dry and patchy skin.
Rose Water: The antibacterial, antiseptic, and moisturizing properties make it an excellent choice for dry, flaky, and dehydrated skin. This ingredient can be a replenishing agent for your dry skin.
Honey: Honey has skin brightening properties and contributes to a healthy, moisturized, glowy appearance to the face. It naturally soothes, heals, and nourishes your damaged skin.
Green Tea: This natural moisturizer with hydrating qualities is an excellent vitamin E and L-Theanine source. It moisturizes, nourishes, and helps you control oil while preventing dryness.
Aloe Vera: It soothes dry, itchy skin associated with eczema. The presence of 80% water content and nutrients, vitamins, and minerals in aloe vera makes your skin look soft and glowing.
Avocado: It is a soothing ingredient for dry, flaky skin that is often associated with eczema or other skin conditions. The antioxidants and vitamins accelerate skin repair and help heal and soothe inflamed, dry skin.
While choosing a cleanser for dry skin, avoid formulations with high pH values or exfoliators such as salicylic or glycolic acid, which can dry your skin more.
Types Of Cleansers Perfect For Dry Skin
The skincare product market has a variety of cleanser types. Finding the right cleanser that suits your dry skin best is crucial, as not every face cleanser works best on everyone.
Here, we have decoded different cleanser types that work well on dry skin and help you get hold of the ideal one for your skin type.
Cream Cleanser: Cream cleansers, rich in textures and packed with moisturizing properties, do not strip away the skin's natural oils and will not leave your skin dehydrated.
Cleansing Balm: Cleansing balms with a rich and creamy texture melt into an oilier texture on the skin. They are an excellent option for makeup removals.
Micellar Cleansing Water: Micellar waters, the lightest form of facial cleanser, have a similar texture to plain water. You can use this micellar water with cotton pads; it doesn't need rinsing.
No-Rinse Cleanser: No-rinse cleansers, a soap-free formula, is excellent for removing makeup and freshening up the skin quickly. It energizes your skin and saves time in your skincare regime.
Oil-Based Cleanser: Oil-based cleansers with hydrating and soothing characteristics can eliminate skin dryness and dehydration. Always check the label and choose the one without emulsifiers or surfactants.
Cleansing Wipes: It is an option of convenience and is best for wiping off all impurities. It can remove makeup and is easy to carry too.
Try double cleansing with the above ingredients to get a deeper cleanse, but be careful not to strip off your skin.
Way Towards Skin Softening
Now that you have some general understanding of natural cleansing ingredients, over-the-counter cleansers for dry skin, and their types, choosing the right product can reduce unpleasant side effects and enhance your skin's general health to get smooth, clear, and soft skin.
References
Homemade Cleansers for Dry Skin
https://makeupandbeauty.com/homemade-cleansers-dry-skin/
Best Cleansers For Dry Skin
https://www.purplle.com/magazine/article/best-cleansers-for-dry-skin
Types Of Cleansers Perfect For Dry Skin:
https://www.newsbytesapp.com/news/lifestyle/types-of-face-wash/story
https://www.bebeautiful.in/all-things-skin/essentials/understanding-the-different-types-of-cleansers
https://www.dermstore.com/blog/different-types-of-cleansers/
https://www.activecarestore.co.uk/blogs/news/different-types-of-face-cleansers-and-how-to-choose-the-right-one