Double Cleansing: Is It An Effective Method?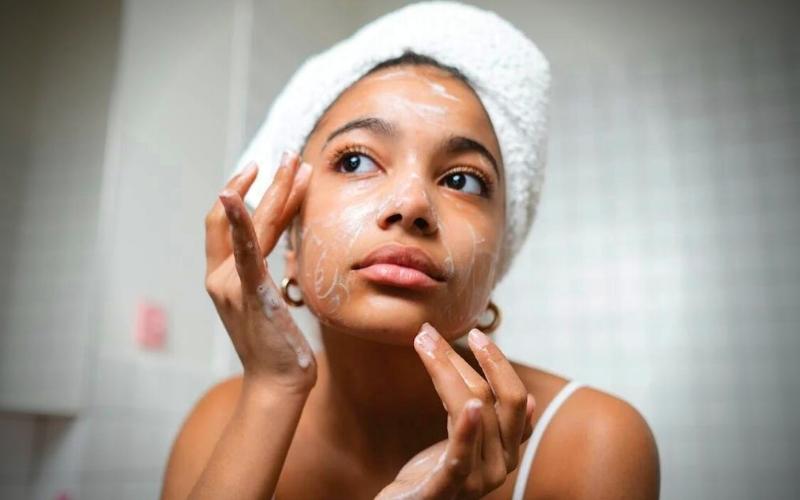 The double cleansing method is a popular skincare routine that involves cleansing the skin twice, typically with an oil-based cleanser and, subsequently, a water-based cleanser. The theory behind this method is to remove any dirt, makeup, or excess oil from the skin, i.e., deep cleanse the skin.
Though many people swear by its effectiveness, in particular, those with oily or acne-prone skin often find that this method helps reduce breakouts and improve the overall appearance of their skin.
Of course, everyone's skin is different, so it's important to experiment to see what works best for you. But if you're sought-after a deeper cleanse, the double cleansing method may be worth a try.
What Is Double Cleansing?
Double cleansing involves more than merely washing your face twice. To get a deeper clean, rinse with an oil-based cleanser first and then with a water-based one. This process helps in removing sunblock and any makeup you might be wearing.
Even after washing your face once, stubborn, pore-clogging, and acne-causing pollutants may still be present on your skin. The advantage of cleansing twice is that the first cleanser will clean your skin, remove dirt and excess oils from the day, dissolve any makeup, and remove grime from your face. The second cleanser will address your specific skin type or concern, which should have agents that moisturize, smooth, or exfoliate while also treating acne.
By carrying out these stages, you can ensure that whatever treatment and moisturizing you apply is effective.
How To Double Cleanse Your Face?
Irrespective of your skin type, the fundamental procedures for double-cleansing are the same:
Step 1: Use micellar water, oil-cleanser, or cleansing balm during the first cleanse. If you choose to apply micellar water, use a cotton pad. Use your fingertips if you're applying a cleansing oil or balm.
Step 2: Nicely massage the product into your skin using cotton swabs or fingers. This step will help gently but efficiently dissolve any residue, including sunscreen, sebum, and makeup.
Step 3: Rinse the product from your face by splashing some water. If you want to make sure all of the residues are removed, you can again gently rub your face in a circular motion.
Step 4: Take a small bit of your second face cleanser and gently massage it into your skin. You can use your fingertips or a face washing tool when doing this.
Step 5: Again, rinse off the cleanser from your face, including your hairline and jawline. Pat dry your face thoroughly.
Double Cleansing Method For Different Skin Types
Double cleansing is an intriguing technique for thoroughly washing your skin and removing all makeup and impurities. However, simply being aware of double cleansing is insufficient. The cleansers you select entirely depend on the type of skin you have.
You should be careful not to strip your skin off. Double cleansing can make your skin drier or irritated. Use cleansers that are gentle, calming, hydration, and fragrance-free. You may use micellar water before a cleanser if you have sensitive, reactive, or eczema-prone skin.
Micellar water has the strength and gentleness to remove extra surface-level sebum, makeup, and debris without drying out your skin or aggravating any underlying sensitivities, unlike using two cleansers, which may do so.
Pro-Tip: Those with dry or sensitive skin should choose a formula that is mild and non-irritating. Look for substances such as shea butter, sunflower, coconut or jojoba oils, cocoa, berry, and black currant extracts, vitamin E, and vitamin B5 that will help you get rid of damaged skin and dullness so that your skin glows.
It may surprise you to learn that cleansers with oils in them can help oily skin. For the second round of double cleanse, try using a foamy face wash or one with salicylic acid. Alternatively, try using a cleansing balm or oil made for oily skin. Salicylic acid assists in removing excessive oil from the skin, while suds formulas are excellent at removing dirt and grime.
If you have oily skin, adding a salicylic acid-containing cleanser to your double-cleanse routine will assist in breaking up the buildup of sebum that manifests as blackheads. When you have oily skin, you could occasionally have surface dryness and irritation; in that case, stick with mild cleansers that control oil production.
Pro-Tip: For the best results with double cleansing, consider looking for substances like olive oil, mint, aloe vera, and vitamin C.
If you likely have combination skin, which is a little bit oily and a little bit dry, use a product combination that won't dry you out but will also get rid of any extra oil. Look for moisturizing face washes or gel cleansers that thoroughly clean the skin without stripping it.
Pro-Tip: Look for cleansers that prevent oiliness without making your skin feel dry if you have combination skin. Thus, it is preferable to select an oil-based cleanser. To help brighten and moisturize your skin, seek components like rosehip oil and vitamin A.
It is always beneficial to keep it simple with an acne skincare routine. When applying sunscreen or makeup, ensure that you use appropriate products to thoroughly cleanse. Use micellar water or gentle cleansing balm specifically for acne-prone skin, followed by an acne face wash.
We know that certain oils can be comedogenic and exacerbate acne-prone skin. Hence, look for a gentle cleansing oil to remove your makeup. To maintain your skin from breaking out and calm irritation, look for antioxidants and anti-inflammatory ingredients like aloe, green tea, vitamin E, glycolic acid, and tea tree oil.
Pro-Tip: Use a gentle creamy cleanser to complete cleansing.
The finest double-cleansing solutions for mature skin are those that not only completely remove all signs of surface impurities but also aid in addressing typical problems associated with aging skin, such as dryness, dullness, and loss of firmness.
Cleaning oils completely clean your face with the added benefits of moisturizing and balancing your skin. Infused with vitamins, essential oils, and antioxidants, it also nourishes, guards, and restores suppleness, and fixes your skin's natural barrier.
Pro-Tip: Avoid face washes that include alcohol since they might dry up your skin and remove its natural oils. Seek out cleaners that contain hyaluronic acid, ceramides, and vitamins A, C, and E, as these can provide anti-aging effects, increase moisture and hydration, and provide much-needed resistance against environmental stressors.
Benefits Of Double Cleansing
People are unaware of the advantages of double cleansing. In addition to giving you perfectly clean skin, cleansing your skin twice has numerous wonderful skincare benefits that will enhance the general look and health of your face.
Effectively Removes Makeup
It is not enough to wash your face to completely erase any makeup traces. When removing makeup, double cleaning ensures that even the most tenacious items, such as liquid lipstick, foundation, and mascara, are completely removed.
Eliminate Extra Oil Buildup
Excess oil attracts dirt and grime, which frequently leads to outbreaks. By double cleansing, you can ensure that your skin's sebum production is balanced and eliminate any potential pore-clogging pollutants.
Boosts The Efficacy Of Other Skincare Products
Your skin can absorb other skincare products far more efficiently when it is clear of pollutants, makeup, and sunscreen residue. By removing that layer, they can penetrate your skin deeper and faster when you double cleanse.
Rinsing your skin twice regularly also helps your skin look and feel better. Your products perform better without the additional layer, giving you luminous and radiant skin.
Cleanse Without Stripping The Skin
Since it removes the skin's natural oils, deep scrubbing frequently dries out the skin. Using two cleansing methods, you may thoroughly cleanse and nurture your skin simultaneously.
Is It Important To Double Cleanse?
Although it could appear to be a more effective method of cleansing your skin, most skin types don't require double cleansing.
Usually, it is not essential to double cleanse. For most people, a single thorough wash of the face with a mild cleanser is more than sufficient. More than using a double cleansing process, over-washing is the concern.
If You Don't Wear Makeup, Is It Necessary To Double Cleanse?
Double cleansing can be beneficial when wearing makeup, especially sunscreen or waterproof makeup.
However, double cleaning may not be the best skin care regimen for you if you choose to go makeup-free.
Way Towards Cleansing
While the double cleansing method is often praised for its effectiveness, there is some debate among skincare experts as to whether it is necessary. Some argue that one thorough wash with a good quality cleanser is sufficient. In contrast, others believe that double cleansing can help to prevent breakouts and keep the skin looking its best.
Last but not least, the choice of whether or not to double cleanse depends on personal preference and skin type. However, for those who choose to double cleanse, it is important to ensure that the products used are compatible with each other to avoid damaging the skin.
Reference