10 Makeup Looks Of 2021 You Won't Want To Miss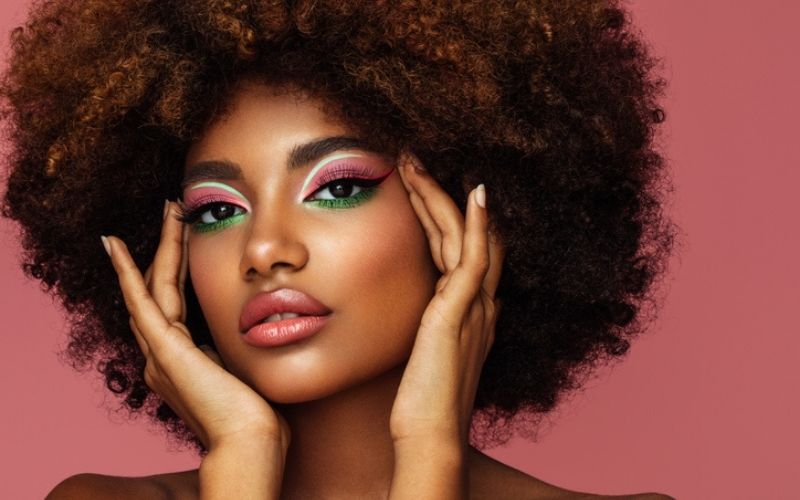 Idk about you, but besides a pandemic-less new year, we're looking forward to some fresh new cute makeup looks!
This will be a key part in how to look pretty.
And you should also check out our guides to nude nails and short nail designs, too.
Whether it's everyday makeup, glamour-runway status, or just a beginner formula you're looking for, this will definitely include some trendy new makeup ideas for you to try.
No more neon eyeliner, glitter eyeshadow, or any straight up barbie looks we promise.
These simple makeup looks will be super legit no matter what time of year it is and they're sure to turn some heads (in a good way).
Cute easy makeup looks
So without further ado, let's get into the 10 cute easy makeup looks of 2021 you need to know.
1. Colored mascara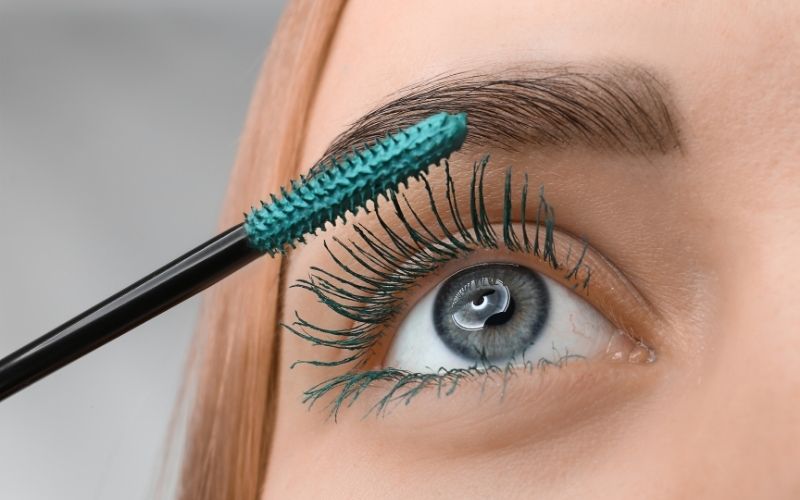 2021 is all about changing up makeup and going for anything but typical.
Coating lashes with bold-colored mascara is an easy way to take your makeup game up a notch.
It adds just the right flair to the eyes to make them pop (we promise no clown vibes!), drawing attention to them and breaking necks.
When choosing a colored mascara for your eyelashes, go for a bright color that intensifies your eye color and doesn't dim it down.
Expert Tip: After a few coats of your favorite lash color, add a pop of color to the lower lash line with eyeliner or eye shadow to create a cool contrast between colors.
2. Smoldering eyeliner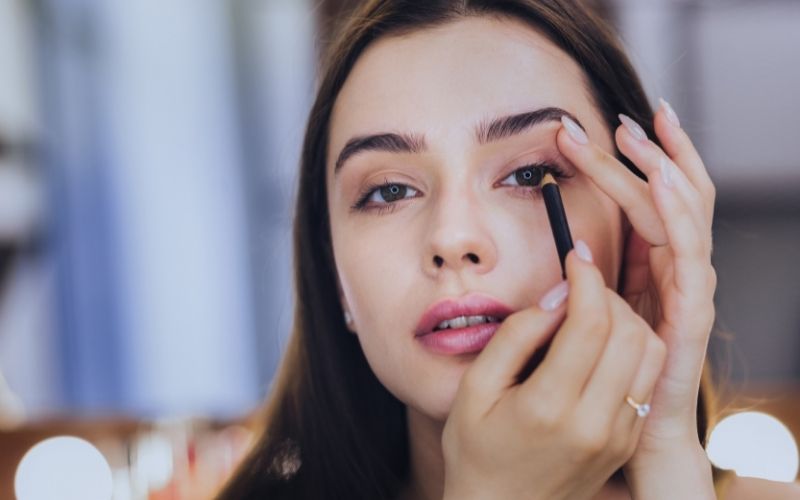 Smoldering eyeliner has been a makeup application trick in simple makeup looks for years.
It adds contrast and depth to the eyes making them look sultry and defined.To achieve this look, it's best to use a pencil eyeliner, going for darker shades like black, dark blue, or smokey gray.
The next step is to apply a little bit of pressure to line the lash line and use a q-tip, brush, or fingertip to blur sharp lines starting at the corner of your eye for a sexy smoldery look.
Pair with a red lip, coat of mascara, and nude palette for a killer look that you can wear from day to night or, add a thin liner with a small brush at the outer corner of your eyes for a smoldery cat eye.
3. Lash lifts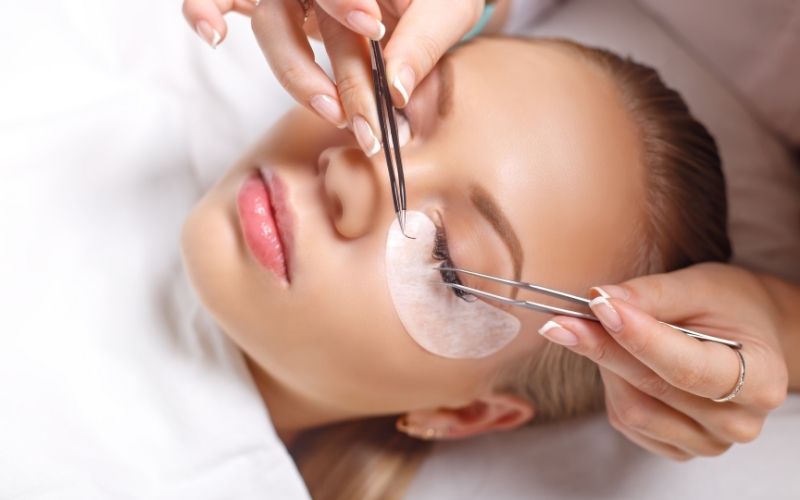 Playing up the lashes is one of the most simple makeup looks, helping your makeup routine fly.
You'll notice that your entire face lifts and the look of dark circles disappears.
Instead of false lashes that take eyelash glue and patience (who has that?), opt for a lift.
Lifts once had a reputation as a bad thing, with many preferring a false lash due to the use of chemicals.
Now, thanks to advances to the trend, lifts are safer than ever, helping to achieve a natural makeup look.
Accentuate your lashes by adding white liner to the lower lash and red lipstick.
You'll fave a trendy, everyday look that takes minimal eye makeup and just a dusting of eyeshadow.BTW, at-home lash lift kits are a thing, too.
4. Stained lip color
Every loves a simple makeup look, enjoying the light feel and simplicity.
So, skip the matte lipstick and go for a stain.A soft colored lip is great look that you can swipe on in seconds.
Lip colors are the easiest way to breathe life into skin, giving a pump to your pigment and accentuating your skin tone.
When choosing a color, go for a red or pink tone that compliments your features or dark shades like plum for something a little more bold.
If you're going for something natural, go with some nude lips.
Pair your stain with a little concealer and a nude bush for a simple yet trendy look that goes well with the rest of your look.
5. Graphic eyeliner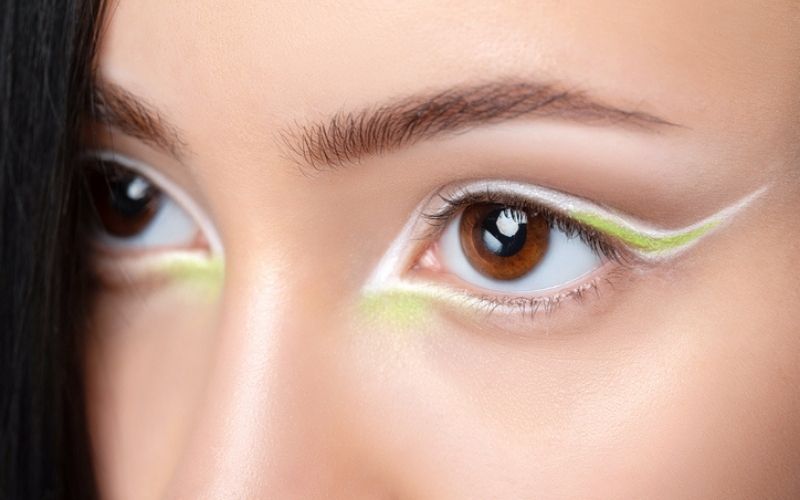 The days of simple brown eyeliner are over.
Now, the art of makeup is all about cool graphic liner or blingy rhinestones that play up the eyes for a unique makeup look.Graphic liner is all over social media, with influencers creating daring designs with black and white eyeliner to create beautiful eye makeup.
To create this look, create a line at the upper lash line and in the crease, leaving the lid clean or with a bit of nude eyeshadow.
Because this is a bold look, leave the rest of the face simple, patting on a bit of lip gloss, brow gel, and highlighter at the outer corner of the eyes for some wing action.
Expert Tip: To make green eyes and blue eyes pop, add white liquid liner to the waterline and a bit of gray eye shadow or matte shadow to the lower lash line.
The smoky eye look is fierce and gorgeous with just the right amount of sexy!
Also, if you have small eyes, use lighter eye shadow to create the effect of longer lids.
6. Dolphin skin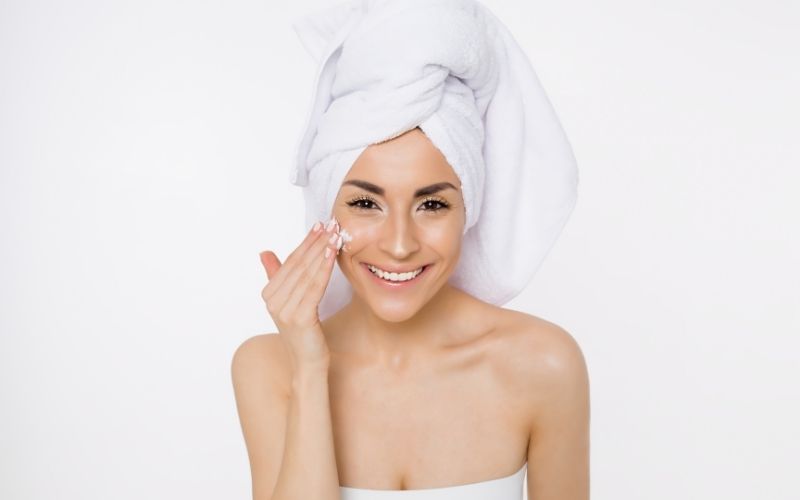 This new look is likely blowing up your Instagram feed, worn by your favorite celebrities like Kim Kardashian and raved about by Allure magazine.
We're talking about the dolphin skin trend that create a dewy glow that's perfect for every skin tone.
Now is the perfect time for this look, with summer and weddings right around the corner.According to top tutorials, the secret step to this look is a hydrating moisturizer and glossy highlighter without shimmer.
The first thing you should do is take a sponge and pat on foundation to blur discoloration and pores on your cheekbones, finishing it off with a light contour and powder blush for a super glossy and easy makeup look.
It's time to bring this glossy look to real life!
7. Glossy eyelids and lips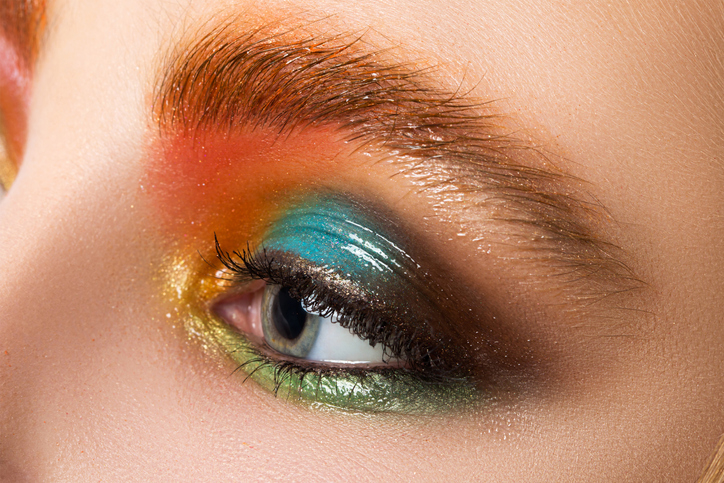 If you're looking for a cool eye area makeup trend, try out this glossy lip and lid combo.
It's been spotted on the red carpet a few times, worn by A-listers like Gigi Hadid and Rhianna. Getting a glistening eyelid is simple, though you need to use good makeup products to prevent the dreaded crease.
To start, dab your favorite primer and sweep a lighter shade onto the eyelid working it up into the crease.
Then use a palette with your favorite pigment to add a bit of color.
Then, add gloss and voila!
This look is best paired with a bit of bronzer on the temples and forehead, just a touch of blush, and a bit of concealer under the eyes.
Expert Tip: Go easy on the liner with this look. It will make it appear more fresh and bright plus, you wan't have to worry about your liner running.
8. Natural makeup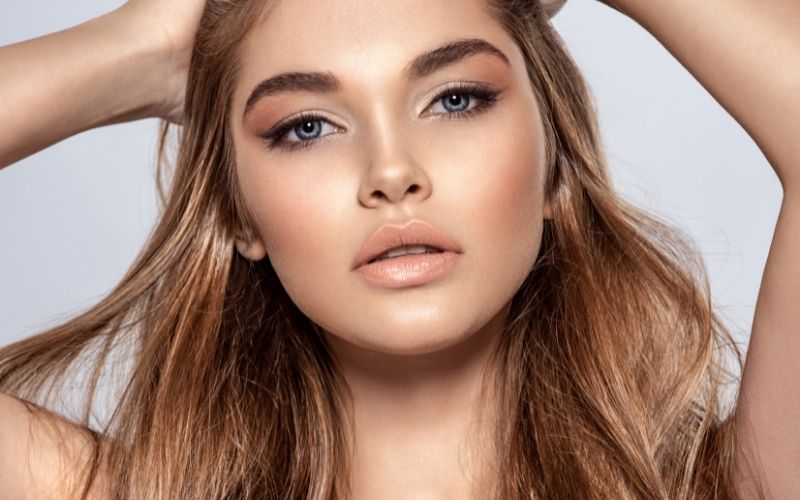 Instead of full face of makeup, fashionistas and influencers are going for a fresh natural makeup look that makes their skin glow.
Instead of using makeup makeup, the trick is looking for bb cream, tinted primer, or matte foundation with lots of moisture that matches your skin tone perfectly.
Covering imperfections lightly creates a clear complexion that tones the full face (even the jawline) while letting beauty marks and freckles peek through.
Pair a freshly primed face with a highlight right at the top of the cheekbone and the inner corner of eyes.
Then add a juicy color to the apples of the cheeks and blend bronzer for a flawless finish.
Keep a nude lip with a lip balm or gloss, and the lids fresh with a nude tint.
Expert Tip: Give yourself a few faux freckles around your nose and tops of cheekbones and add a simple and chic false lash for a natural finish! And don't forget to apply sunscreen first.
9. Bold eyebrows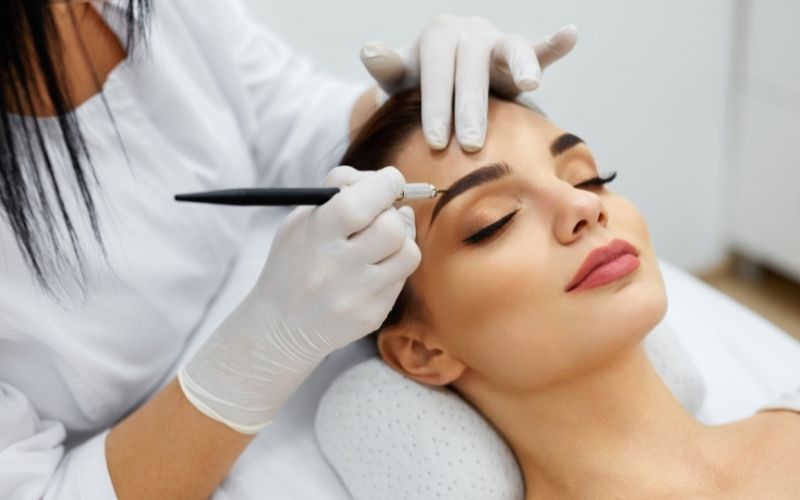 Bold brows are a classic look that look good with everything from a simple makeup look to a super-trendy wild cosmetics look that even Beyoncé would commend.
If you weren't born with naturally bold brows, you may want to visit a makeup artist to help you score the best tips on how to achieve a brag-worthy brow.
They can work with your brow bone to find the best shape to compliment your features, teaching you how to create it day to day.
Once you get the hang of keeping a steady hand, it won't take you much time to shape your brows, especially in the sparse areas, finishing them off with brow gel and brushing eyelashes with a bit of mascara for a look that's all about the eyes.
In terms of products, Glossier's brow flick is a great one to tame those brows.
Expert Tip: When brows are bold, keep the lids toned down with a nude color and pop a bit of shimmer in the inner corner of your eye and cupid's bow.
You're gonna love this simple makeup looks idea.
10. Peach lips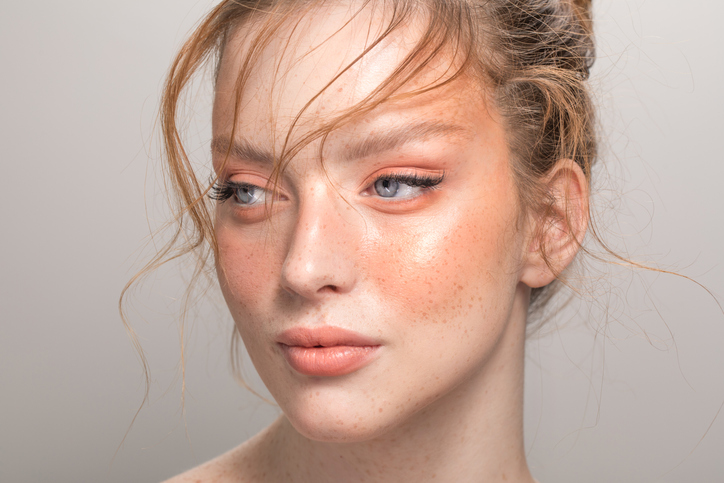 And for number 10, cue the drumroll please…
If there is one thing you need in your makeup bag collection, it's a nude lipstick with peach undertones applied with a lip brush.
This dramatic makeup jewel hit the scene last year, paired with gold shadow and light contour.
While this luscious lips look is great for every tone, those with brown eyes and brown hair rock it best.
When rocking a peach lip, highlight the cheeks and inner corner of the eye to create a golden glow that's perfect for summer.
Expert Tip: Pair with blush that has a pink tone and pop concealer in a triangle shape under the eye to bring out all the best hues in your face makeup!
Simple makeup looks final thoughts
2021 is full of fun, cool ideas for simple makeup looks that you should definitely give a try.
It's about time cute makeup looks easy.
These 10 looks have been featured in top fashion magazines as 2021's trendiest looks, ranging from simple makeup to looks with lots of sparkle and shine.
Follow our expert beauty tips for the best way to execute these simple steps, taking your makeup from drab to fab in an instant for any big night.
Makeup has come a long way, and it's about time you updated your look.
So, why not try one of these?
You might just wind up featured on a trending feed and make your influencer dreams come true!