Effortless Eye Makeup Looks For Daytime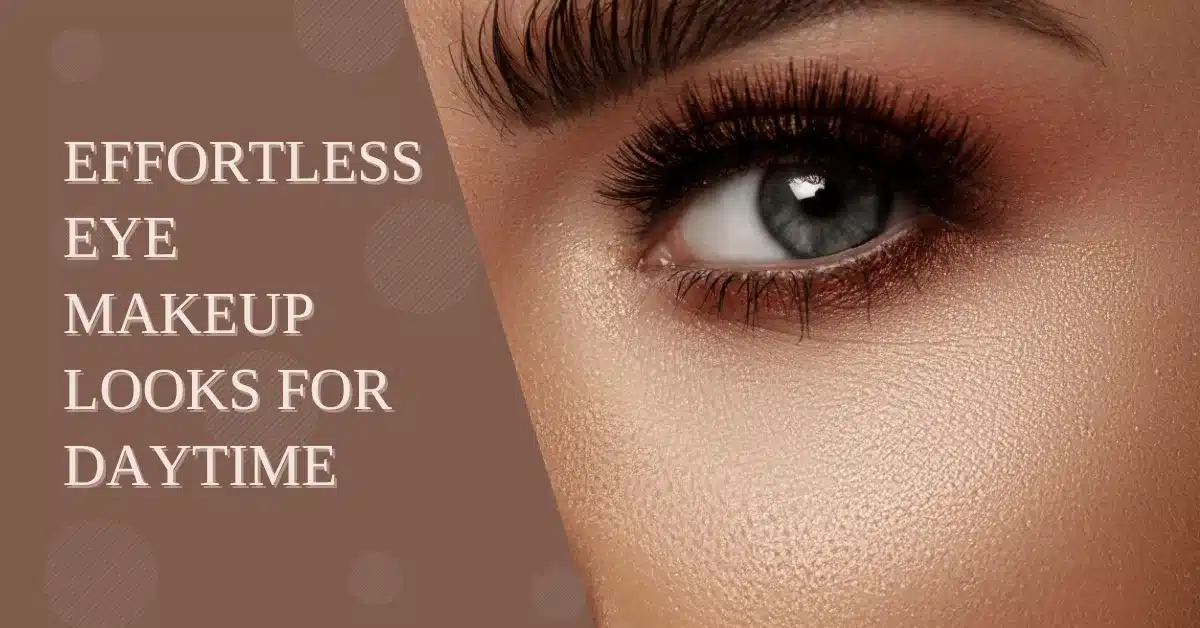 Achieving a stunning daytime look doesn't have to be a laborious task. When it comes to daytime makeup, finding the right balance between subtle elegance and enhancing your natural features is the key. One of the most impactful elements of daytime makeup is the eyes.
Let's explore various eye makeup looks that are perfect for daytime wear, helping you achieve a polished and radiant appearance that complements the daylight.
Natural and Neutral Tones
For a timeless and effortlessly beautiful look, consider using natural and neutral eyeshadow tones. Earthy browns, soft taupes, and warm beiges are ideal choices. These colors not only enhance the eyes but also provide a versatile canvas for other makeup elements. A light dusting of a neutral shade across the lids with a slightly darker hue in the crease can define your eyes without being too dramatic.
Subtle Smokey Eyes
Contrary to the misconception that smokey eyes are exclusively for evenings, a subtle smokey eye can work wonders during the day. Opt for softer shades like light grays, muted purples, or soft browns. Blend the eyeshadow seamlessly to create a gentle gradient, avoiding harsh lines. This technique adds depth to your eyes without overpowering your daytime look.
Defined Lashes and Mascara
For a quick and effective daytime eye makeup look, focus on defining your lashes. Curl your lashes and apply a coat or two of mascara. This simple step opens up your eyes, making them appear larger and more awake. Choose a mascara formula that provides length and separation for a natural yet impactful finish.
Fresh and Bright Eyes
To achieve a fresh and bright-eyed look, use light, shimmery eyeshadows in shades like champagne or pale pink. Apply a small amount to the inner corners of your eyes and the center of your lids. This technique catches the light, creating a luminous effect that can make your eyes appear more awake and youthful.
Soft Eyeliner
Instead of bold, heavy lines, opt for soft eyeliner to define your eyes. Choose a brown or gray pencil or a soft gel formula for a more subtle effect. Apply the liner close to the lash line, focusing on the outer half of the eyes for a delicate yet defined look.
Monochromatic Eye Makeup
Create a harmonious and cohesive look by using a single color for your eyeshadow, liner, and even mascara. This monochromatic approach can be both chic and understated, allowing you to play with different shades according to your mood and outfit.
The Classic Minimalist Look
Start your effortless eye makeup routine with the classic minimalist look. Apply a neutral eyeshadow or a light shimmer across your lids. Focus on enhancing your natural lash line with a thin line of brown or taupe eyeliner. Finish the look with a coat of mascara to lengthen and define your lashes. This timeless approach takes only minutes but leaves you looking put together and sophisticated.
One-and-Done Eyeshadow
Simplify your daytime eye makeup routine with a one-and-done eyeshadow look. Choose a neutral or subtle shimmer shade that complements your skin tone. Sweep it across your eyelids for an instant wash of color. This technique is not only time-saving but also creates a soft and understated look that effortlessly elevates your eyes.
Effortless Winged Liner
Achieving the perfect winged liner doesn't have to be a time-consuming task. Use a felt-tip eyeliner pen to create a quick and easy wing. Start with a small flick at the outer corner of your eyes, then connect it to your lash line. This simple winged liner adds a touch of sophistication without the need for intricate detailing, making it an excellent choice for a swift morning routine.
Luminous Inner Corner Highlight
Brighten and widen your eyes with a touch of luminous highlights in the inner corners. Use a light, shimmery eyeshadow or a highlighter pencil to apply a small amount to the inner corners of your eyes. This effortless step instantly opens up your eyes, making you look more awake and refreshed.
Soft Smudged Liner
For a subtle yet sultry look, opt for a soft smudged liner. Use a pencil or a smudging brush to apply a thin line of eyeliner along your upper lash line. Gently smudge the liner with your fingertip or a smudging tool for a lived-in, effortless finish. This technique adds a touch of definition without the precision required for a sharp line.
No-Makeup Makeup Look
Embrace the no-makeup makeup trend for your eyes by focusing on enhancing your natural features. Skip eyeshadow altogether and opt for a clear or subtle brown mascara to lift and separate your lashes. A touch of clear brow gel and a nude eyeliner on your waterline complete this fresh and minimalistic daytime look.
Under Eye Makeup
Mastering under-eye makeup is essential for a bright and rested look. Choose a hydrating concealer to cover dark circles, opt for color correctors when needed, and set with a translucent powder for a flawless finish. Highlighting the waterline with a nude eyeliner opens up the eyes, completing a fresh and radiant appearance.
Enhancing Your Eye Color
Elevate your eye color through strategic eyeshadow choices, such as warm tones for blue eyes, earthy hues for green eyes, and complementary shades for brown eyes. Experiment with contrasting eyeliners and colored mascaras to intensify your gaze, creating a captivating and personalized look. Harmonize eyebrow color with your hair shade, and play with contrasts for eyes that truly reflect your unique style.
Effortless daytime eye makeup doesn't mean sacrificing style. With these easy and quick techniques, you can achieve a polished and chic look that suits your busy lifestyle. Whether you prefer a classic minimalist approach or a soft smudged liner, these effortless eye makeup looks will leave you feeling confident and ready to take on the day in style.
FAQs
Q: What are the essential tools for eye makeup?
Discover the must-have tools for eye makeup, including brushes, eyelash curlers, and eyeliners. Elevate your beauty routine effortlessly.
Q: How to apply eyeshadow for a natural look?
Learn step-by-step instructions for applying eyeshadow to achieve a natural and effortless look. Master the art of blending for stunning results.
Q: What eyeliners work best for different eye shapes?
Explore the best eyeliners tailored to your eye shape. From pencil to liquid, find the perfect liner to enhance your unique eye features.
Q: How to choose eyeshadow colors that complement your eyes?
Dive into the world of color theory and discover which eyeshadow hues enhance your eye color. Elevate your eye makeup game with personalized palettes.
Q: Tips for preventing smudged eyeliner throughout the day?
Uncover expert tips to keep your eyeliner intact all day long. From setting techniques to choosing the right formulas, say goodbye to smudged lines.
Q: What is the best mascara for voluminous lashes?
Explore the top-rated mascaras for achieving voluminous lashes. From lengthening to curling, find the perfect mascara to enhance your eye makeup.
Q: How to conceal dark circles with eye makeup?
Get step-by-step guidance on concealing dark circles using eye makeup. Discover the right products and techniques for a refreshed and radiant under-eye area.
Q: What trends are dominating the world of eye makeup this season?
Stay on top of the latest eye makeup trends. From bold colors to graphic liners, explore the hottest looks to elevate your eye makeup game.
Q: How to create a smokey eye effect for different eye shapes?
Master the art of the smokey eye for your specific eye shape. Follow our detailed guide to achieve a sultry and alluring look effortlessly.
Q: Are there any eye makeup tips for sensitive eyes?
Explore eye makeup tips tailored for sensitive eyes. Discover hypoallergenic products and gentle techniques to enhance your eyes without irritation.
References
https://www.glamour.com/story/simple-eye-makeup-ideas
https://www.pinterest.com/pin/444237950714128561/visual-search/?x=16&y=16&w=532&h=699&cropSource=6
https://www.vogue.in/beauty/content/easy-eye-makeup-looks-that-are-so-dramatic-you-wont-miss-your-lipstick