How To Banish Forehead Lines Naturally?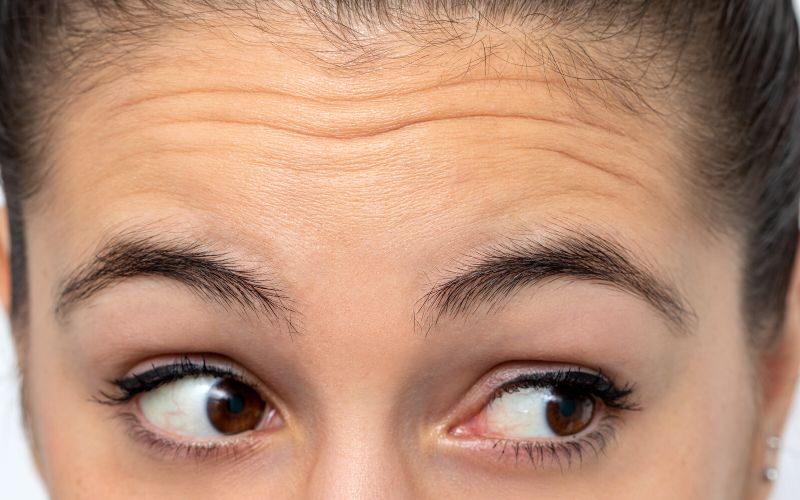 Pesky forehead lines make your mornings unhappy and stressful. Even though makeup helps you cover these lines, you cannot completely hide them from others.
So, what is the importance of treating forehead lines?
Treating small lines at their initial stage is really beneficial. It can be a challenging task sometimes, but it helps you maintain the young look for a long time.
To help you, we have gathered some key points and ideas that help you analyze what is wrong in your daily routine and what you can do to wipe away those forehead lines from your face.
Table Of Contents
Understand What Causes Fine Lines On Forehead
You cannot put the blame on one reason here. There are various reasons why you get forehead lines. Here are some possible causes.
Genetics
Aging
Frontalis muscle movements
Sun exposure
Smoking and alcohol consumption
Stress
Lack of sleep
Unhealthy diet
Clogged pores
Massage And Stretching Practices To Reduce Your Forehead Lines
You can treat these forehead lines easily through massages and stretches. For effective results, you have to understand the pattern of the lines on your forehead.
Let's look at some massaging practices that help you clear your frown lines. This method is capable of giving positive results in a short duration.
Massage your forehead area with your fingers to relax the muscles. Start it from your forehead and slowly move your finger to the temple in small circular movements. This massage releases the tension. Repeat the entire steps three times.
Repeat the same steps by varying the pressure from medium to light and vice versa.

First, stretch your forehead skin tightly from one side (left or right) with your fingers. Now, move the other hand's fingers in a zig-zag motion on your forehead.
For example, if you use your right-hand fingers to stretch the skin, use your left-hand fingers for zig-zag motion. These stretches help smooth down the forehead lines.
You can repeat these entire steps on both sides by varying the pressure from light to medium.
First, press the area between your eyebrows with your palm. Now, gently move your palm in an upward direction to the hairline. Repeat the same method, starting from the left eyebrows and right eyebrows to the hairline.
With regular practice, this powerful method helps you clear the forehead lines easily.
You can also check our guide on healthy habits to look younger.
Get Rid Of Forehead Lines Using Natural Remedies
You can try some effective natural face masks at home to treat fine lines on your forehead. They are
Honey Face Mask
Ingredients Benefits:
Raw Honey – Probiotics, antioxidants, nutrients, and enzymes nourish and plump your skin.
Turmeric – The antioxidant, antibacterial, anti-fungal, and anti-inflammatory properties help you fight premature lines on your forehead.
Lemon Juice – Vitamin C encourages collagen production to plump your skin and vanish the forehead's fine lines.
Apple Cider Vinegar – Vitamin C and other vitamins stimulate collagen production and give you toned, wrinkle-free skin.
Preparation:
Mix one teaspoon of raw honey and turmeric, and add a few drops of lemon extract or apple cider vinegar to that. Apply this paste to your face and wash it after 20 minutes.
Dates Face Mask
Ingredients Benefits:
Dates – Vitamins C and D that maintain your skin's elasticity.
Raw Milk – Vitamin B, calcium, lactic acid, and antioxidants reduce wrinkles, fine lines, dark spots, and patches.
Preparation:
Blend two dates (seeds extracted), a pinch of turmeric, and two spoons of raw milk together in a blender to make a thick paste. Apply this to your forehead skin, keep it on for some time, and remove it with cold water when it dries.
Fenugreek Face Mask
Ingredients Benefits:
Fenugreek – Vitamin A, B1, B2, C, and E, potassium, and nutrients improve your skin's elasticity.
Aloe Vera – Boosts collagen production, improves skin elasticity, and reduces the forehead lines.
Rose Water – The nourishing and skin-soothing properties guarantee a pretty face.
Preparation:
Combine two tablespoons of fenugreek powder and aloe vera, and add two tablespoons of rose water to it. Let the entire mixture sit for 10 minutes. Apply this paste to your forehead lines, wait 15-20 minutes, and finally, rinse it off with cold water.
Anti-Aging Products For Forehead Lines: Is It A Good Option?
Using OTC products that contain ingredients like retinol, glycerin, niacinamide, vitamin E, or hyaluronic acid is a better option to delay skin aging and treat visible fine lines.
Nowadays, various anti-aging products and advertisements from different brands force us to use those products to maintain our youthful look. Even though the invention of anti-aging products solves most skin problems, they are also associated with some side effects too.
Here know the pros and cons of using anti-aging products on your forehead.
Pros:
Give you a young look
Available at different prices
Give you a better result in a short period
Readily available
Some brands are completely safe
Cons:
There are many fake products
Side effects are high
Sometimes, zero results
Some still believe that only costly products can give quality results. This thought is entirely wrong. The ingredients, their quality, and your skin issues are the key players here. Know more skincare myths that help free yourself from many skin care nightmares.
Summing Up
The fine lines on the forehead may pop up at the early stage of your life. Nowadays, even teens are struggling with forehead lines. The improper care and mistakes in skincare may deepen these lines with time and add extra years to your face. Treat those forehead lines properly and try natural anti-aging products (only after analyzing the ingredients).
FAQs
Q: Is Botox a safe treatment option for forehead line?
A: Yes, Botox is a safe, FDA approved method for treating forehead lines.
Q: What are the reasons for forehead lines in teens?
A: The major reasons are lifestyle and stress. Some factors like sun exposure and mistakes done in skincare routine may also affect your skin and cause forehead lines.
References