How To Use Purple Hair Dye For Dark Hair Without Bleach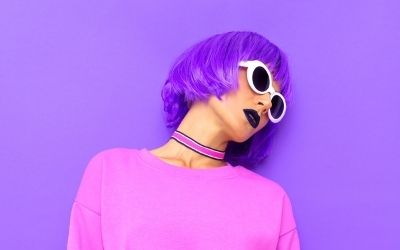 Purple Hair Dye For Dark Hair
If you have brown or black hair, you know the struggle of wanting to dye your hair a bright color but needing multiple bleach treatments in the process.
Surprise: you don't actually need to bleach your hair to get that Kylie Jenner/Jessie J/Katy Perry purple hair look you've been dying to try out!
You can easily mix and match this with some tribal braids or Pop Smoke braids!
And you should also consider getting some solar nails or nude nails to match.

Here, we'll go over some key information about how to dye brown or black hair purple so you can take that plunge.
These will go perfectly with our other tips on how to look prettier.
Different ways to dye your hair
How to get ready to turn your brown or black hair purple
How to choose the right shade and brand
How to care for your color-treated hair
Let's get started.
Dying your hair yourself vs. going to a salon
The good news is, at-home color kits are user-friendly. But if you prefer the royal treatment at your favorite hair salon, go for it.
Here are some factors to consider when choosing between dying your hair purple yourself or booking an appointment.

DIY purple hair dye
Less expensive
More hair dye brands to choose from
May be difficult to get even color throughout
Can get messy (Watch out for stains!)
Purple hair dye salon treatment
More costly
Less likely to damage or get dry hair with a professional
More even coverage
Time-intensive
Just remember, you don't need to follow your own instructions to dye your hair purple, we'll help you with that.
How to prepare purple hair dye for dark hair at home
To ensure you achieve the aesthetic (and shade of purple hair color) you want, take these few steps before opening up that color box.

1. Perform a strand test
Apply a small amount of hair dye onto a strip of your hair and leave on for about 20 minutes, depending on the brand.
If the color matches your expectations, and if your hair agrees with the dye, time to color the rest of your head.

2. Perform a patch test
Patch test behind your ear or on the skin on your inner elbow.
Why?
Most hair dye brands contain this ingredient called paraphenylenediamine or PPD. It is irritating at the very least and causes a serious allergic reaction at worst.

So apply a dab of the purple hair dye solution to a patch of skin and wait until it dries.
If you don't experience any allergic reactions (swelling, difficulty breathing, feeling faint, or feeling nauseated) then you're good to go.

Experts recommend doing a patch test every time you dye your own hair at home, even if you've used the same brand before and didn't experience any irritation.

3. Deep condition
Condition your hair a week before and the preceding days.
A deep conditioning mask is especially crucial if you plan on bleaching for your purple hair.
Think of it as a shield against the chemicals you'll be applying to your strands.

You might also skip washing the day before your color session. Natural hair oils can help with damage control on your scalp to prevent any potential irritation.

4. Shop for color-safe conditioners and shampoos
If you want your permanent or semi-permanent purple hair dye to last as long as possible, color-boosting hair products are a good idea.
There are various purple conditioners and cleansers that enhance color.

Another ingredient to avoid is any type of paraben, which can fade color.
Fortunately, some of the best shampoo formulas have ammonia-free, mild ingredients, which means they're less likely to dull your hair's shine.

5. Gather your accessories

You might need a comb, brush, pair of gloves, and towels for dying your own hair.
Wear a shirt you don't mind getting stained, and try to do it all in the bathroom where you can wash away messes easily.
How long does purple hair dye last?
Your color's life depends on whether it's a temporary, semi-permanent, or permanent dye.
The difference between non-permanent and permanent hair dye is whether you use bleach or ammonia to lighten your hair before applying color.

You can also use wash out dyes which includes temporary dye and wax.
Permanent hair dye colors the inside of your hair strand, while temporary and semi-permanent hair dyes only color the outside of your hair.
Moreover, brunettes and black-haired folks might find that the perfect purple doesn't last as long when they opt out of bleaching.

How long does the purple hair dye last?
Temporary: 2-3 days or about 2 washes
Semi-permanent: 4-6 weeks or about 28 washes
Permanent dye: 6-8 weeks or about 32 washes
Keep in mind that these estimates are if you don't wash your hair every day.
For the best results and higher chances of achieving that perfect purple, go at least one day in between washes to preserve color and your hair's natural oils!
If you feel a certain way about not washing hair every day (or if you sweat, travel, etc.) then dry washing is an option.
People with oily scalps can also benefit from dry shampoo.
How to choose the right purple hair dye
1. Look at the color chart on the purple hair dye box
Typically, your results depend on your current shade. Most dyes have a reference chart that allows you to picture what your own hair can look like afterward.
Light brown
Medium brown
Dark brown
Black
The lighter your natural hair color, the more it's able to show off brighter colors.
However, even people with dark brown hair to black hair can hold semi-permanent dyes in equally stunning shades.
Just note that darker hair is best suited to plums, burgundies, and deep purples.

2. Set filters for your purple hair dye choice
Are you looking for permanent purple hair dye or only semi-permanent dye?
Do you want a cruelty-free hair dye?
Ammonia-free?
One that suits red undertones?
Dye with natural ingredients?

Do you want a semi-permanent product that lasts through 5 washes or one that can potentially last a long time, say, 20 washes?
Would like to purchase a whole bottle or just a small jar of permanent color for retouches?

Answering these questions can help you narrow down the best brand — and maybe color — for you.

3. Choose your favorite shade of purple hair dye
This brings us to our next step.
There are so many different shades of permanent purple available that choosing your favorite will be the most time-consuming part of this whole coloring process.
Here are some ultra-trendy hues and classic purples to consider.

Plum purple hair dye
Looks like: Dark purple, deep purple hair shade
Best base: Brown or black hair

Dusty lavender
Looks like: Lilac with a grayish tint
Best base: Light brown or bleached hair

Burgundy
Looks like: Reddish-brown purple
Best base: Brown hair

Purple rain
Looks like: Classic eggplant shade
Best base: Brown or black hair

Bright purple hair dye
Looks like: A pinkish purple closer to a dark magenta
Best base: Brown or black hair

Amethyst
Looks like: Jewel-toned purple
Best base: Brown or black hair
Things to keep in mind for purple hair dye

A different shade of purple may also look better or worse on you than the reference photo, depending on your hair's undertone and your skin tone.
Just remember: warm undertones go best with warmer colors while cool undertones pair well with cooler colors.

Note that some of these shades are brand-specific.
We'll review some of the best brands below with a collection of purple hair dyes, plus more information about each company.
The best purple hair dye brands and products
The buying choices for semi-permanent hair dye brands on the market are so vast, the selection process can make your head spin. Here are some of the best dyes to help you narrow it down.
Classic hair dye brand – Manic Panic
Pros: Wide range of shades available and lasts 6 weeks

Manic Panic is a staple in the hair industry, especially in eye-catching colors like purple and pink.
From their electrifying Ultra Violet purple shade to their Perfect Pastel lavender, you have a lot of products to choose from if you want violet locks. Another crowd pleaser is the Purple Haze.
These gentle formula products come in a resealable tub of 4 fl oz (fluid ounces) and are one of the lowest price choices for the quality you get!
All Manic Panic products are vegan, ammonia-free, and cruelty-free.
Best for cruelty-free and ammonia-free dye – Arctic Fox Vegan
Pros: No PPD, ammonia-free, and made of vegan, gentle ingredients

Arctic Fox is a superstar when it comes to DIY hair dying with high quality ingredients.
Their dyes deliver vibrant hair color, although admittedly, they might work best on bleached, blonde hair, dark blonde, or light brown hair.

Plus, they fight against animal cruelty by never using animal byproducts.
Another great thing about their semi-permanent hair dyes?
They can be mixed together to create amazing hair color combinations that change depending on your base color.

Think purple and indigo, blackberry and pink — the possibilities are endless.
So if you've ever wanted to try a rainbow hairdo minus the harmful chemicals, Arctic Fox is your best choice.
You can easily find this one-piece set best seller on their website or amazon.
This is easily one of the best cruelty-free semi-permanent hair color dye products.
Top purple hair dye for black hair and conditioning – Rebellious Colors
Pros: Not made with animal byproducts and is non-damaging with no ammonia

Rebellious Colors is a good option if you want to touch up your hair color every few weeks when it fades.
This semi permanent hair color depositing conditioner formula gently conditions your dark hair and doesn't use any peroxide.

It's also ammonia-free, so you don't have to deal with any harsh chemicals.
Their color selection isn't very large in the purple department, but people love their other colors like green, teal, and pink.
Brunettes and black-haired folks can count on Rebellious Colors.
This product has a formula that's a very easy applicator.
Best dark purple hair dye for light brown hair – Lime Crime
Pros: Ultra bright colors and sulfate-free

If you want to try out different neon and pastel shades on your treated hair, blonde hair, or light brown hair, Lime Crime is a good choice.
Their Unicorn Hair collection of semi-permanent dyes is vegan and lasts longer the lighter your hair is.

Lime Crime cares about ethical production, so they take steps against animal cruelty like never testing on animals and using ammonia-free componenets.
Best purple hair chalk – got2b
Pros: Washes out easily and is great for day events

Unlike Manic Panic, got2b is a popular choice for their styling products.
However, they've branched out over the years.

Beyond semi-permanent pastes, hair chalk is another good option for temporary hair dye.
You can grab a chalk block from got2b or similar brands that can last a couple of days.

Sport dark purple hair for day-long celebrations like a cosplay convention or a friend's birthday party — then wash it all out and try a new color in the morning.
Less commitment, less mess.
Best purple hair dye with vegan keratin – Punky Colour
Pros: Last over 35 to 45 washes and easy to apply

Trying to stay clear of gluten and animal-derived keratin?
Choose any of Punky Colour's hair dyes.
Their deep violet dye formula looks best on lighter heads, but it works as purple highlights for brunettes and black hair.

On top of purple color, they offer other bold color options like red, blue, and dark purple plus inclusive kits if you need accessories like application brushes, a tint brush, and gloves.

Once you've chosen your purple shade based on your hair type, the last thing to do is follow the instructions and our aftercare guideline.
Luckily, most formulas only need about 20 to 30 minutes to work.
If you've got thicker hair or long hair, you'll need to separate your locks into more sections.

Purple hair dye honorable mentions
Garnier nutrisse ultra color nourishing permanent hair color cream
L'oreal paris feria multi-faceted shimmering permanent hair color
Got2b metallic permanent hair color
L'oréal paris colorista permanent gel hair dye(gel formula)
MOFAJANG Hair Coloring Dye Wax, Purple Instant Hair Wax
How to care of my semi-permanent purple hair
After-care treatment is just as important as prepping for your new hairdo to maintain healthy hair.
There are many steps you can take to preserve those delicate pastel purple or punchy ultra violet pigments.

1. Wait about 3 days before washing your hair
This is probably more applicable to bleached or treated hair.
When you wait 72 hours before taking a shower for the first time after a dye job, you're giving your hair a chance to lock in color.

Otherwise, you might just be washing away all the dye before it even had the chance to penetrate your hair.

2. Use color-depositing shampoos and/or conditioners
Color-depositing products help preserve your purple dye by giving it a boost every time you wash your hair.
There are also color-safe products with no parabens that are less astringent than many regular products.
They often come in large bottles that are great for longer hair.

3. Avoid frequent use of devices like hairdryers, straighteners, or curlers
Heat deals damage to your hair cuticles, which directly affects how hair dye looks.
A delicate hair cuticle also means it's less likely to hold onto that color, sending your beautiful purple down the drain.

Our best advice is to dry hair naturally as much as possible and stay away from heat styling for a while.
We know: some days you just need that straightener or curling wand, but your dark purple dye will thank you for saying no.

4. Apply hair masks regularly
Hair masks are superstars even if you don't have dyed hair.
When you apply the mixture onto your colored locks, they help seal in color and moisture by nourishing your hair strands.
This will help keep your shiny tones in tact and produce extra shine!

Masks need to be left on for about 30 minutes at most, and are essential if you're treating your hair for the first time.
Coconut oil, shea butter, and avocado is also beneficial for all hair types.

5. Avoid chlorine
Unfortunately for avid swimmers, chlorine and hair dye isn't a good mix.
It can accelerate color fading or change how your hair looks completely.

If possible, condition your hair before heading to the pool or wear a swim cap just to be safe.

6. Keep your hair out of the sun as much as possible
This one sounds odd, but we promise it's legit.
Without going into too much technical detail, here's the rundown: sunlight speeds up the fading process by altering the ingredients in your hair dye.

Even our skin needs protection from the sun a la sunscreen and clothing, and there are lots of products for hair protection, too.
You can try out UV-protective sprays or powders if you spend the majority of your days outdoors.

Wearing a hat is always a good idea if you prefer not to use additional products and want to keep your dark hair purple.

7. Don't wash your hair every day
This one's probably the easiest aftercare step you can implement.
You can still use dry shampoos if you feel the need to freshen up, too.

Avoid clarifying shampoo, however, as this is too harsh on treated strands (even if you have shorter hair).
Fortunately, there are some dry shampoo brands that also act as UV filters.

8. Stay away from sulfate-based products
While you might use a clarifying shampoo before turning your dark hair purple, go for gentler items after.
Traditional formulas can be useful if you need to deep clean your hair and scalp.

However, they can strip your hair color since they are on the stronger side of the spectrum.
Instead, choose sulfate-free formulas that condition your hair.
These are often free of other harsh chemicals, too.

9. Wash hair with lukewarm or cool water
Hot water causes your hair strands to open up, making them more susceptible to releasing your hair color.
If you can handle it, cold water is the best way to go for color-treated hair.

If cold water is your kryptonite, lukewarm water or slightly cool water works.
Make sure the water runs through your hair completely.

10. Use leave-in conditioners
Like hair masks, leave-in conditioners keep your hair healthy.
This helps strands hold onto color better and makes your hair shine.

There are lots of vegan and color-friendly conditioners available online.
Plus, they're a great salve for frizzy, dry, and damaged strands.

If your hair fades to an undesirable color or a barely-there shade, you can recolor your hair at home or visit your hairdresser.
Whether you're bleaching your hair or going the non-bleach route, follow our before and aftercare guidelines in this article to care for purple dye on hair.