25 Tribal Braids Hair Styles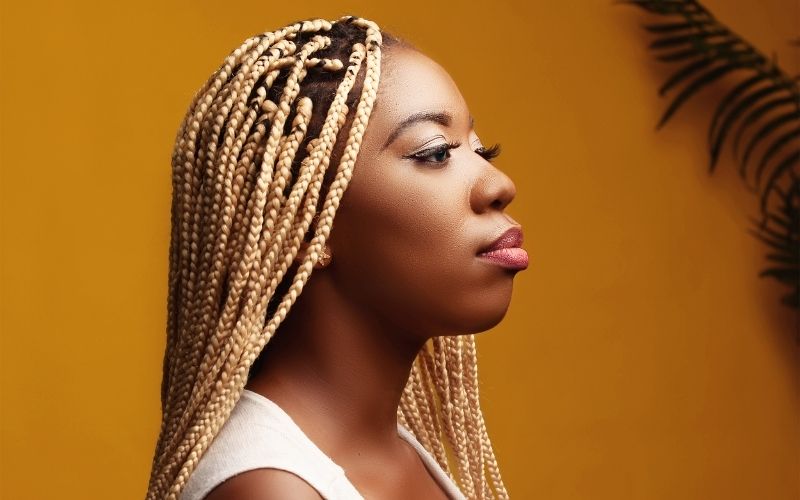 Tribal braids are a culturally important hairstyle to many black women around the world.
Tribal braids take their roots from African culture and often feature beautiful accessories such as beads, shells, and hair clips.
The most popular tribal braid styles include box braids, Fulani braids, and Ghana braids.
We also have a full list on Pop Smoke Braids!
What are tribal/fulani braids?
Fulani braids come from an ethnic group called Fula in West Africa.
The fulani women have been representing these braids for generations!
There are so many possibilities to use these braids for an awesome, natural look!
You're in the right place, so let's get right into the 25 best examples of tribal braids:

Ombre box braids
Add a splash of color to your natural hair with some ombre extensions as box braids.
This protective style is youthful and radiates the modern world.
If you're looking to do it purple, we have a guide on using purple hair dye for dark hair.

Jumbo braid
This hairstyle will make you feel like a goddess!
A combination of baby hair edges and jumbo box braids will help you to embrace your culture.
These are a thick braid with a nice flair. Your braider will thank you for this style, as it's not super hard!

Classic fulani braids
Fulani braids symbolize wealth, origins of your family, marital status, or even religion.
Fulani braids feature a long length, with braids falling or curving around the side of the head.
This protective hairstyle might require a few packs of hair, but this Fulani braid hairstyle has a sophisticated touch.
You can't go wrong with traditional fulani braids!

Straight-back cornrows
This style features 8 feed-ins, perfect for black hair.
This gorgeous feed uses long hair for some beautiful long braids, but you can choose your length for any instances.
Cornrows braids are unbeatable.

Senegalese twists
Made for afro hair, these braids will tackle any frizz you have and is the perfect option for those who don't like super long braids down to their butts.
Accessorize with some glass beads, and you've got the perfect style for everyday wear!
This also works great for people that have natural curls.

Upgraded Ghana braids
This glamorous look takes inspiration from the country of Ghana; this braid style goes straight back over the head.
These gorgeous braids incorporate a weave of hair for added length and style at the back of the head.

Timeless box braids
Box braids may be one of the most popular styles for black hair.
Embrace your beauty and creativity to a whole new level with this perfect combination of neat braids with curly ends; this protective style protects your natural hair texture while looking stunning.

Butterfly locs
One of the more popular styles for special occasions this year are the beautiful butterfly locs.
This stylish look will help you to embrace your inner queen while looking elegant and stylish.

Middle part tribal braids
These beautiful Fulani cornrows feature a stunning braid in the middle part with some thread accent braids and curly ends.
With the part in the middle, the rest of the hair will fall to the side of your face for a natural look.

Rainbow triangle box braids
Bored of your traditional style hair?
This tribal braid hairstyle takes a spin on the classic box braid and adds a pop of color, perfect for a party!

Fulani gold cuff braids
The Fulani people love to accessorize their hair, so try out these gold cuffs for a super classy hairstyle that women of all ages can wear.

Knotless box braids
This distinctive hairstyle features a honey blonde style for a little variation of the standard black box braids.
Be sure to take good care of your braids so they last a long time!

Yarn braids
The beauty of black hair can be embraced with a vibrant color of yarn to make your features pop.
This example is a great choice for those with a diamond face shape.
These are aldo called lemonade braids.
You'll definitely need to check the availability of your stylist so you can get these done ASAP!

Top-knot bun
Love knotless braids?
Try out this braided bun for a chic style; who doesn't love a good high bun?
A great way to spice up your look… one of a-kind hairstyle!

Side part braids
Special occasion coming up? Party, maybe? Have some red carpets to blow up?
This tribal braid hairstyle combines tradition with modern glam and will make you the center of attention.
These side braids are such a bold look!

Fulani braid ponytail
This should definitely be your next Fulani hairstyle… maybe even your new favorite!
This beautiful hairstyle leaves braid strands in front of the ears that make all the facial features pop.
Add an ornament to each of the front braids… cowrie shells, ribbons, or some blue glass beads would look great!

Bob braids
This braided top bun bob features wooden cuffs and some jumbo tribal braids or cool twist.
The perfect summer hairdo! Some of the best tribal braids.

Intricate braided high ponytail
This protective style is a fun way to change up a classic braid style while adding your stunning choice of sassy length.
Great for any hair color!

Girls hairstyles braids
Looking for the best trendy look for your little one?
Embrace history and reduce al the fuss with these horizontal/vertical tight cornrows with the famous half twist braid.
Get your stylist to help you with this one and you'll have your very own alicia keys braids in no time!

Crochet faux locs
Love the hair extension?
Try out these super long locs for a great modern look, perfect for many face shapes.
The versatility of this style is everything; throw the locs into a top knot, ponytail, or any other style.
The knot is our favorite!

Colorful extensions
Exceptional patterns are everywear, and gone are the days of un-ruly hair; your next hairstyle should definitely be these middle section authentic Fulani braids with a cute vibrant color!
You could try this hairdo out with pink, purple, green, or your favorite color for a similar look.
We are so in support of this idea! People will definitely notice.

High braided bun
Ladies, love your scalp with this updo braided bun.
You could various decorative elements to spice this classic style up, like with copper wire, silver coins, wooden beads, or fulani beads.
The different unique patterns of this 'do are all stunning!

Heart ear braids
Hearts have been one of the hottest braid trends of 2021.
You'll look and feel fly with your hair done, so why not head over to your favorite braider right now?
Full disclosure: you will feel like a complete queen with these.

Long box braids
Love you some knotless box braids?
This classic braid style could also use a bright color with some feed-in hair, or you could stick with black.
Intricate braids aren't for everybody, and your scalp will thank you!

Short fulani braids
These Fulani tribal braids are a great idea if you don't like long hair.
Featuring a funky side part, this is a perfect example of how talented black people are when it comes to hair.
Add some decorations to this classic braid pattern for the best medium braid.
It's always great to try different fulani braid patterns.

You can go on youtube to find a digestible selection of stylists that'll help you make these looks work.

Overall
Seeing runway-status celebrities such as Alicia Keys rock these glamour braids definitely inspire us to give them a try too!
This trend will totally catch anyones eye out in public.
Whether you choose basic cornrows or a single braid part, you'll be looking like an absolute goddess!
It's about time braids' lovers give this a try!