The 17 Hottest Pop Smoke Braids Of 2021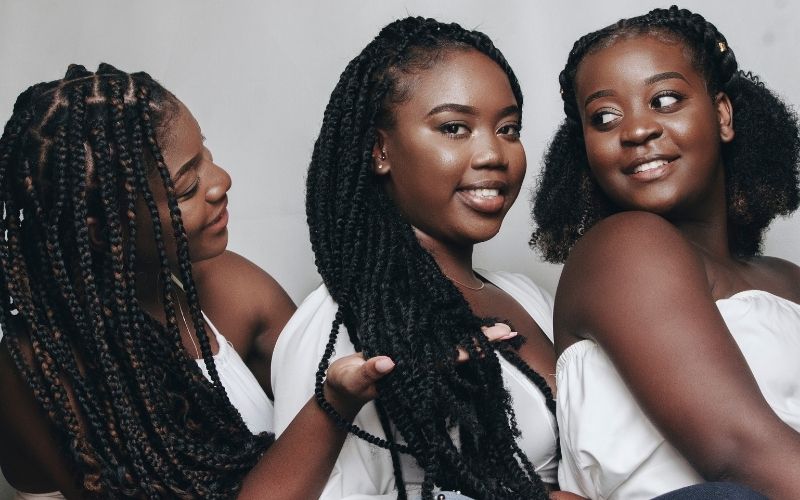 Pop Smoke braids hairstyles are one of the most popular hairstyles styles now.
These will pair perfectly with all of our other tips on how to look prettier.
They originate from the late rapper Pop Smoke. Not only are they stylish but are a great protective style to give your natural hair a break and promote hair growth.
These braids are commonly created starting with cornrows or stitch braids braided into extensions to create thicker, fuller braids.
There are many variations of Pop Smoke braids ideas, ranging from braids with beads to adding curls to them.
And if you ever thought about how to use purple hair dye for dark hair, we have a guide on that too.
If you were thinking about trying this style, we have 15 different types of Pop Smoke braids hairstyles for you to choose from.
And we also have a list of fulani/tribal braids too!
1. Traditional Pop Smoke braids
Traditional Pop Smoke braids are the most common and popular style on people you will see across social media for black women and black men.
It consists of about four medium-sized braids that are cornrowed and braided straight down into a traditional braid.
Braiding hair or extensions can be added to increase the length and size.
2. Pop Smoke braids with beads
Who doesn't love beads?
Add more fun the next time you get braids by adding beads at the end of your hair.
Beads add more personality to your hairstyle and can be easily added.
You can add your beads to the ends and use an elastic band or bead pin to keep them intact.
3. Zig-zag braids
Add more dimension to your style by incorporating zig-zag patterns in your scalp rather than straight lines.
Zig-zag braiding pattern parts are another popular trend amongst natural hairstyles.
They add more fun to your style and are done using a rat tail comb to create the zig-zag pattern before you begin to cornrow.
These faux locs hairstyles are the perfect black girl braids that you may have seen on tiktok.
These will feel like true goddess braids and you should definitely try them!
4. Short Pop Smoke braids
Short Pop Smoke braids are a quick and easy protective style for short hair.
They can be done with or without extensions.
Without extensions, the braiding time is almost cut in half.
They typically do not go past your shoulders.
They protect your ends from breakage and promote hair growth.
Pair these with some louis vuitton sunglasses and you'll be set!
5. Jumbo Pop Smoke braids
If you love big hair and making a statement.
Jumbo braids are perfect for you.
Jumbo Pop Smoke Braids are like traditional ones, except with a twist.
They involve fewer braids, and each braid size is larger than a traditional braid.
To create jumbo braids, more braiding hair is added than normally to create fuller, thicker braids.
6. Long Pop Smoke braids
You love dramatic hairstyles.
Long braids can go all the way to your knees.
While they will take a while to complete.
The finished look is worth the wait.
To have longer braids, increase the amount of hair extensions added to elongate each braid to the desired length.
7. Pop Smoke Braids with color
If you want your braids to stand out, add some color to the ends of your braids.
To do this, you can use braiding hair that is red, blonde, or blue and ask your stylist or to do it yourself slowly incorporate the colored braiding hair when you are halfway done with each braid.
This will create a beautiful ombre effect with your natural hair.
8. Side part Pop Smoke braids
Commonly Pop Smoke braids have middle parts.
Parting your hair to the side of the head changes up the look and allows you to personalize it more to your liking.
You can add a subtle or deep side part to the left or right.
9. Small Pop Smoke braids
Small Pop Smoke braids resemble the traditional Pop Smoke braids, except the parts are smaller and more braids are done to complete the look.
10. Pop Smoke Braids for Kids
These braids are also a great hairstyle for kids.
It is a great way to do a quick hairstyle for them to protect their hair from breakage and friction as they play throughout the day.
It can also be maintained for a while and promote growth for their hair, while also looking cute!
11. 3 layer Pop Smoke braids
Three-layer pop smoke braids are perfect for volume, if you desire more braids, and want your hair to have a thick appearance.
Try this style.
Three-layer braids are created by separating your hair into three sections starting from the bottom to the nape of your hair.
Each section is then separated into smaller sections and braided down like a traditional Pop Smoke braid style.
12. Pop Smoke braids for men
These braids can be worn by girls, boys, women, and men.
The style for boys is like short Pop Smoke braids.
They do not require any extensions and can be added as an additional hairstyle to your haircut.
This style is great if you have medium-length or long hair as a protective style.
13. Pop Smoke braids with curls
Curls make everything better.
Next time you do Pop Smoke Braids, add curls throughout the braids to create a beautiful look.
These are created using braiding hair and curly extensions.
You can add as much or as little curls as you desire.
Curly hair styles always look great!
14. Tribal inspired Pop Smoke braids
Tribal inspired braids are inspired based on two popular trends: Pop Smoke Braids and Tribal Braids.
There are a vast number of options for this hairstyle.
You can add additional designs like a single braid going down the middle of your head and traditional Pop Smoke braids on the side.
Search tribal braids to get inspiration for your next style.
15. Royalty Pop Smoke braids + cuffs/gold wrap
Small silver/gold cuffs and gold wraps are a super cute addition to your hairstyle.
You can add as many as you want throughout your look and use a gold string wrap in each braid.
Like beads and color, these cuffs and wrap accents add more personality and fun to your style.
You can personalize your hair to your likings as much as you'd like. Protective styles are always a vibe.

16. Jumbo tribal braids

This braids hairstyle is a winner!
This new braided hairstyle scream smoke braids and jumbo feed in corn rolls with a middle part.
This is one of the easiest ways to look picture perfect in any occasion.
Your hairdresser can add different accessories to finish this Pop Smoke braids style.
17. Passion braids

These passion braids are the new hottest braid trend.
Final word
Pop Smoke braids hairstyles are an amazing way to honor and remember the late rapper, Pop Smoke.
There are so many options to choose from above and versatility for this hairstyle. Most importantly they are cute protective hairstyles!