Simple Tricks To Choose Hair Colors That Look Best With Your Skin Tone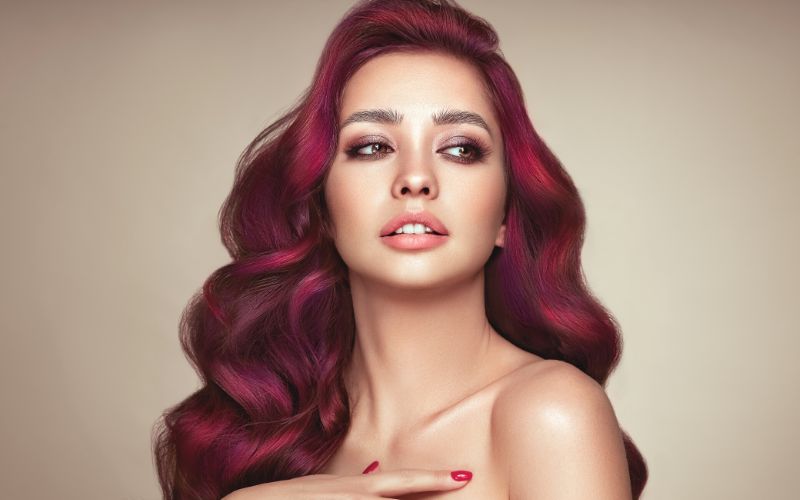 It's natural to be wary when coloring your hair, especially if you're leaping for the first time. Hair coloring can radically transform you but can also lead to regret. It could either make you look younger or age you the same amount.
Choosing a hue because you believe it to be appropriate for your persona or mood is not always easy. Finding the proper shade is a delicate art that depends heavily on your skin's undertones and natural hair color.
Know Your Skin Tone and Undertones
Your skin tone is what you most likely choose in the makeup section: light, medium, tan, olive, deep, etc. However, there are just three basic undertones (warm, cool, or neutral) that determine how your skin tone appears and, ultimately, how your hair color appears on you.
You may sport various red, brown, blonde, and other colors. But the trick is to wear colors that go well with your skin's undertones, making the color look alive and lively.
Here are a few quick ways to determine your skin's true undertone and ensure you do this under natural light since different types of light bulbs can change the appearance of your skin color.
Look At Your Veins
Examining the color of the veins inside your wrist might help you determine your skin's undertone (in natural light). Your undertones are probably cool if they appear blue or purple, whereas greenish veins indicate warm undertones.
You are probably neutral under-toned if you cannot tell if your veins are green or blue or if they aren't particularly visible and appear to match your skin color.
Reaction To Sun Exposure
After spending time in the sun, see how your skin looks. You seem to tan more often than you burn. Determine your skin's undertone with the use of the response.
Less melanin in your skin indicates that you burn quickly or blush easily, indicating that your skin has a cool undertone. You're likely warm or neutral-toned if you burn easily or tan quickly.
Your Eyes May Help You
Those with cool undertones typically have naturally blonde, brown, or black hair with ash tones and blue, green, pale brown, or gray eyes.
You probably have warm undertones if you have strawberry blonde, auburn, brown, or black hair with touches of red, copper, or golden tones and brown, amber, or hazel eyes.
People with neutral skin undertones often have hair and eyes that are a combination of warm and cool; you might have blue-green eyes with hints of copper or eyes that might seem a little cooler or warmer, depending on what you're wearing.
Your Closet Could Say More
The key factor in why different colors suit different people is their skin tone. The colors blue, purple, grey, white, or rose-colored clothing would probably suit people with a cool undertone. In contrast, people with warm skin tones and earthy or autumnal colors like yellow, orange, red, olive green, and cream or off-white look best.
You may be among the fortunate ladies who can get away with wearing almost any hue since you have a neutral undertone – the most adaptable undertone. You may try purple hair dye for a bold, trendy look if you are dark-haired.
Your Jewelry Collection
Your jewelry choice can reveal your skin's undertone, whether it is blingy or subtle. While gold jewelry typically flatters warm undertones, silver, platinum, and rose gold jewelry looks particularly nice on skin with cool undertones. You can probably infer that you are neutral if your jewelry collection contains a variety of metals.
Equate With A Celeb
If you want an A-list color inspiration, distinguish people with similar skin and eye colors to yours. It will help you envisage how the color or shade will look on you.
Now Let's Figure Out Which Hair Color Will Suit You
Now that you know various ways to identify your skin's undertone, let's explore the hair colors and shades that might aptly suit you.
Fair Skin With Cool Undertones
Shades: Butterscotch, amber, honey, gold, caramel
Works Best For: Warm tones such as strawberry blondes, copper, honey, and gold look better on a fair complexion with cool undertones. As an ashy blonde shade might make you look washed out, these colors usually look best on people with olive skin. The same is true for people who have deep skin. If you want to go light, choose a caramel blonde for a striking appearance.
On the other hand, those with extremely warm complexion should stay away from an overly yellow color for the same reason; cooler blondes will generally look better on you.
Fair Skin With Warm Undertones
Shades: Silver, ash, platinum, ice, sand, champagne, beige
Works Best For: Cool blonde colors look fantastic on porcelain-skinned women with blue or violet undertones since those cool tones balance out redness. Furthermore, blue or grey eyes appear stunning against a cool, ashy blonde.
Fair Skin With Neutral Undertones
Shades: Copper, rust, amber, russet, strawberry blonde
Works Best For: On fair and neutral skin-toned people, strawberry blonde hair looks wonderful. Combine warm and cool hues to create a creamy, warm color with a hint of gold copper and a faint, warm red to balance cool hues in pale skin.
Aim for a cooler, brown-tinged auburn if you want to go red but don't want your deep skin to look green. Choose a radiant rose gold hue to make your color truly fashionable.
Fair Skin With Peach Undertones
Shades: Burgundy, true red, dark auburn
Works Best For: Red is a really attractive color for people with ruddy undertones. In contrast to attempting to conceal pale skin with red undertones, it enhances your glow. Of mention is that colder, auburn reds will make people with warm, peachy complexions' skin-pop.
However, experts advise against red for people with olive undertones because it can make skin look incredibly contrasted and green.
Medium Skin With Cool Undertones
Shades: Caramel, amber, honey, golden brown, cinnamon, mahogany
Works Best For: Individuals with medium skin tones should use this color palette, but to avoid seeming washed out, choose a hue that contrasts with your skin tone. The finest skin tones for caramel browns are those that are somewhat less olive in tone and have more yellow and green undertones. On a naturally dark foundation, this color looks incredibly lovely.
Medium Skin With Warm Undertones
Shades: Chestnut, mocha, dark auburn, dark chocolate
Works Best For: Given that brown is so generally attractive, it's fairly difficult to go wrong with it. However, a cooler brown tone can be especially striking on people with warm complexion since it makes the yellow undertones appear creamier. With multi-tonal highlights, lightening from black to deep mocha brown can have a beautiful, delicate impact on people with deeper skin.
Medium Skin With Neutral Undertones
Shades: True black, blue-black, licorice, espresso
Works Best For: Different tones and highlights provide subtle variations to black hair color. A cooler shade like this can be a little harsh on those with fair, cool-toned skin, but it can have a dramatic, porcelain impact on people with warmer or neutral undertones; the same holds for olive skin.
Olive Skin With Cool Undertones
Shades: Reddish browns, brunette, caramel, honey blond
Works Best For: For olive skin, a brunette family is preferable. Keep a darker base with hints of caramel or a honey blond to add an incredible texture. Reddish browns like autumn, chestnut, and cinnamon are great options for this skin tone. Stick with warmer blacks like mocha if you want a darker hue. Olive skin tone works amazingly well with dark, cool brown hair.
Olive Skin With Warm Undertones
Shades: Deep gold, caramel, mocha, ebony, blue-black
Works Best For: Deep golden and caramel hues work well for those with warm undertones. Ebony and mocha tones can be striking and if you want red, stick with the violet reds. If you desire blond, stay with tones that are more honey-based. If you choose blue-black, a more violet-black shade may give you a striking appearance.
Warm blacks can give you a very natural exotic look.
Olive Skin With Neutral Undertones
Shades: Chestnut, chocolate
Works Best For: Go for rich, dark tresses for an attractive look. Rich chestnut and chocolate tones can bring warmth from the skin's neutral undertones. If you desire a lighter side, go for soft balayage to achieve a dimensional look.
Deep Skin With Cool Undertones
Shades: Brown-black, deep black, dark mocha
Works Best For: Deep, cool complexions are the ones where inky black truly shines. You can go with dark mocha, brown-black, or deep black due to its light-catching factor, accentuating the skin tone's depth.
Other options include espresso, blue blacks, deep violet shades, and cool hues such as brown, blue-red, or platinum blond.
Cool blacks look fantastic on deep skin, but warming the complexion with chocolate tones is also a beautiful option.
Deep Skin With Warm Undertones
Shades: Butterscotch, caramel, golden brown
Works Best For: Deep, warm skin tone looks great with simple color tricks. Go for caramel, golden brown, or butterscotch. The caramel and toffee family for the blond hue can give you a more attractive look. These shades may make you more attractive, with tribal braids on special occasions.
For brunettes, go for maple and mahogany tones that help enhance the skin's natural radiance. If you want dark shade, choose warm blacks; for redheads, go for blue-reds.
Deep Skin With Neutral Undertones
Shades: Chestnut, auburn red, reddish-brown
Works Best For: Every hue looks great with neutral undertones. Choose a hue that appears rich and vivid, such as a chestnut brown or an auburn red. The warmth in these tones gives the skin the ideal amount of radiance.
Pop smoke braids may particularly be flattering and accentuate the overall beauty.
Towards Coloring Your Hair
You can choose the most attractive tint based on your skin tone to make your locks seem their best. You can get amazing results by understanding why and how various hues and undertones interact. You will also learn how to play with colors resulting in some genuinely unexpected yet impressive looks.
FAQs
Q: What are the types of hair colors based on their durability?
A: There are three types of hair colors.
Permanent hair color
Demi-permanent hair color
Semi-permanent hair color
Q: What is the hair color that makes us look younger?
A: Caramel, strawberry, honey, gold, and copper are colors that add extra brightness to your hair and make you feel younger and more attractive.
Q: Do dark hair colors make us look aged?
A: Yes, in some cases. After some age, it is good to avoid dark colors because they cast a shadow on your face and emphasize your fine lines and wrinkles more.
References