See The Dark Spots On Your Face Disappear After Using These Tips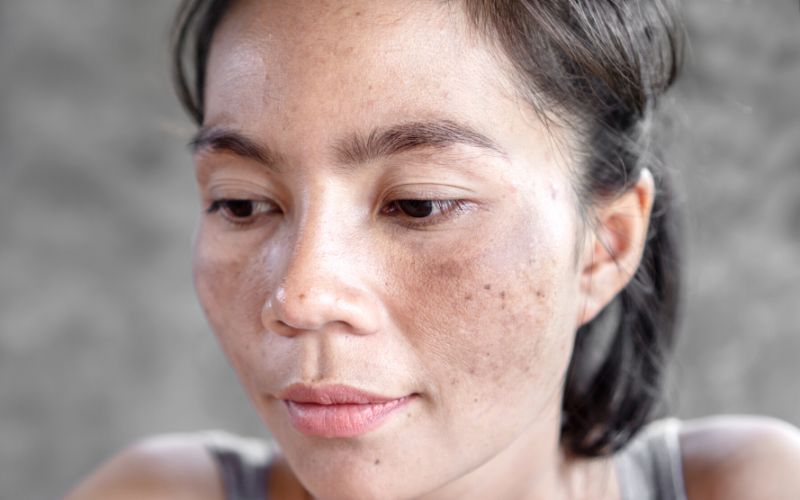 Are you a beauty fanatic always searching for a new foundation, concealer, or highlighter to cover your dark spots and imperfections? If yes, you can achieve an even skin tone easily and naturally without any of these chemicals.
Wondering how? Simple, natural, and easy-to-get ingredients can easily help you achieve this goal. Still, you can go for painless cosmetic procedures if you want immediate results. Here we have explained all the causes of dark spots and the natural and clinical treatments available to treat them.
Table Of Contents
What Are Dark Spots On Your Face?
When your skin produces excess melanin in some specific areas than others, that portion may become darker. The darker, small or larger, flat, and round discoloration on your face is called a dark spot. They have different names, like liver spots, age spots, or sun spots.
Following are the possible causes of dark spots on your face
Skin changes due to natural aging
Spending more time out without proper sun protection
Lack of water content in the skin
Harsh chemicals and ingredients in skincare products
Habit of scratching or picking pimples
Changing the products and brands frequently
Hormonal imbalance
Harsh way of hair removal
Less intake of skin-friendly vitamins
Wounds
Skin conditions
Acne scars
Even though these spots are not painful or harmful, they affect your look, force you to wear makeup often, and cover your skin parts. In some cases, these dark spots indicate that your skin is healing from wounds, burns, or acne.
Home Ingredients For Dark Spots On Your Face
The first thing every woman tries for their skin issues is home remedies. They check YouTube and Insta or ask their mom about simple natural treatments.
So, why do we recommend natural remedies first? Because you can do it with simple kitchen ingredients, this option is economically great too. Here we have given a list of home ingredients for clearing dark spots and explained how to use them.
Using a scrub made of raw milk and chickpeas flour will be helpful for your dark spots. To prepare this, combine one to two tbsp of chickpeas flour and a few drops of raw milk and make it a paste. Now, gently massage your skin with this scrub, let it be on your skin for 10 minutes, and finally, wash it off.
Using a face pack made of coffee powder and activated charcoal can be a great solution to vanish your dark spots. To prepare this, combine two equal parts of coffee powder and activated charcoal and make a paste by adding some water. After applying this paste, sit for 10 to 15 minutes.
Using a toner made of green tea, lemon extract, and rosewater can help you with skin-lightening. To prepare this, mix green tea extract, rosewater, and lemon extract. Use this mixture as a toner to clear your dark spots.
Apart from natural remedies, make some changes in your lifestyle too.
Concentrate more on your self-care. Maintain good skin hygiene to get healthy, glowing, spotless skin.
When you drink more water, intentionally or unintentionally, you are helping your skin to flush out the toxins and clear all the dark spots.
Include more fruits and vegetables rich in vitamins A, D, K, and C, carotene, omega-3 fats, manganese, antioxidants, zinc, and calcium in your daily diet. The vitamins from these foods work inside your body and improve the skin's brightness.
Cut down unhealthy food options like sugar, fried fatty foods, soy-rich foods, and alcohol from your eating list. You can have it occasionally but not on a regular basis.
Treatments For Dark Spots On Your Face
Now you know the natural home remedies and ingredients to treat your dark spots. If you don't get satisfying results, trying skincare products like creams, lotions, serums, or cosmetical treatments is the next option.
Here are some simple and effective treatment options to treat dark spots on your face.
Topical Treatments For Dark Spots
Nowadays, many over-the-counter products in different brands with different ingredients are available to treat your uneven skin tone. But there are many crucial points to be considered while choosing a skincare product for your skin issues.
The essential one among them is ingredients. Simply using a product without proper knowledge about the ingredients won't work. For dark spots, look for ingredients like vitamin C, honey, glycolic acid, retinol, hydroquinone, vitamin E, niacinamide, tranexamic acid, lactic acid, and ferulic acid to improve your skin tone and inhibit the excess production of tyrosinase enzyme, the primary cause of melanin production.
Cosmetic Procedures For Dark Spots
Here are some cosmetic procedures you can try to treat the dark spots on the face. Get your dermatologist's help to find the appropriate treatment for your skin type and condition.
Microdermabrasion is the method loved by most beauty fanatics because this treatment is capable of giving a relaxing feel to their skin. In this method, with the proper steps, your esthetician removes the top layer of your skin, and thus, you can see an improvement in sun spots, age marks, discoloration, and acne scars.
Chemical peeling method using acids like salicylic acid or glycolic acids helps you say a big goodbye to your pigmented areas. Sometimes, your esthetician changes the acid used in this method based on your skin type and conditions.
Intense Pulsed Light (IPL) method, the quickest and most effective method to clear dark spots, helps you achieve clear skin through light-energy pulses.
Fraxel laser improves collagen growth and helps you turn the clock back by removing sunspots and all other pigmentation issues.
PicoSure laser skin rejuvenation method uses ultra-short pulses from the laser to stimulate elastin and collagen production in your skin. This method destroys the pigmentation and gives you clear skin.
Banish The Dark Spots
Dark spots and uneven pigmentation reduce your confidence whenever you plan to go out barefaced. To clear these unpleasant marks, you have to rejuvenate your skin from the inside. Follow this fundamental formula: use natural remedies, eat healthy foods, and keep your skin hydrated. It can help you wipe off the dark spots on your face, hands, neck, and legs.
FAQs
Q: What is color correcting?
A: It is a beauty technique that helps you cover dark, flaky, and patchy pigmentation around your eyes, mouth, and acne scars. This concealing technique is used by most professional makeup artists around the world.
Q: Is it possible to vanish dark spots quickly?
A: No, it may take some time. It may take three months to two years to completely fade away. You can speed up this time with natural remedies, OTC, or cosmetic treatments.
References